Well, this evening I had great success re-doing the heater barrel, but then failed at my attempt to create the PTFE insulator.
Whereas my first heater barrel was bent and had an offset nozzle hole, this second attempt was perfect. I used my regular drill press for the whole thing, not touching the Dremmel press thing. (LarryP, I should have taken you up on the smaller drill bits, but I hadn't planned on redoing the barrel this early). The new barrel: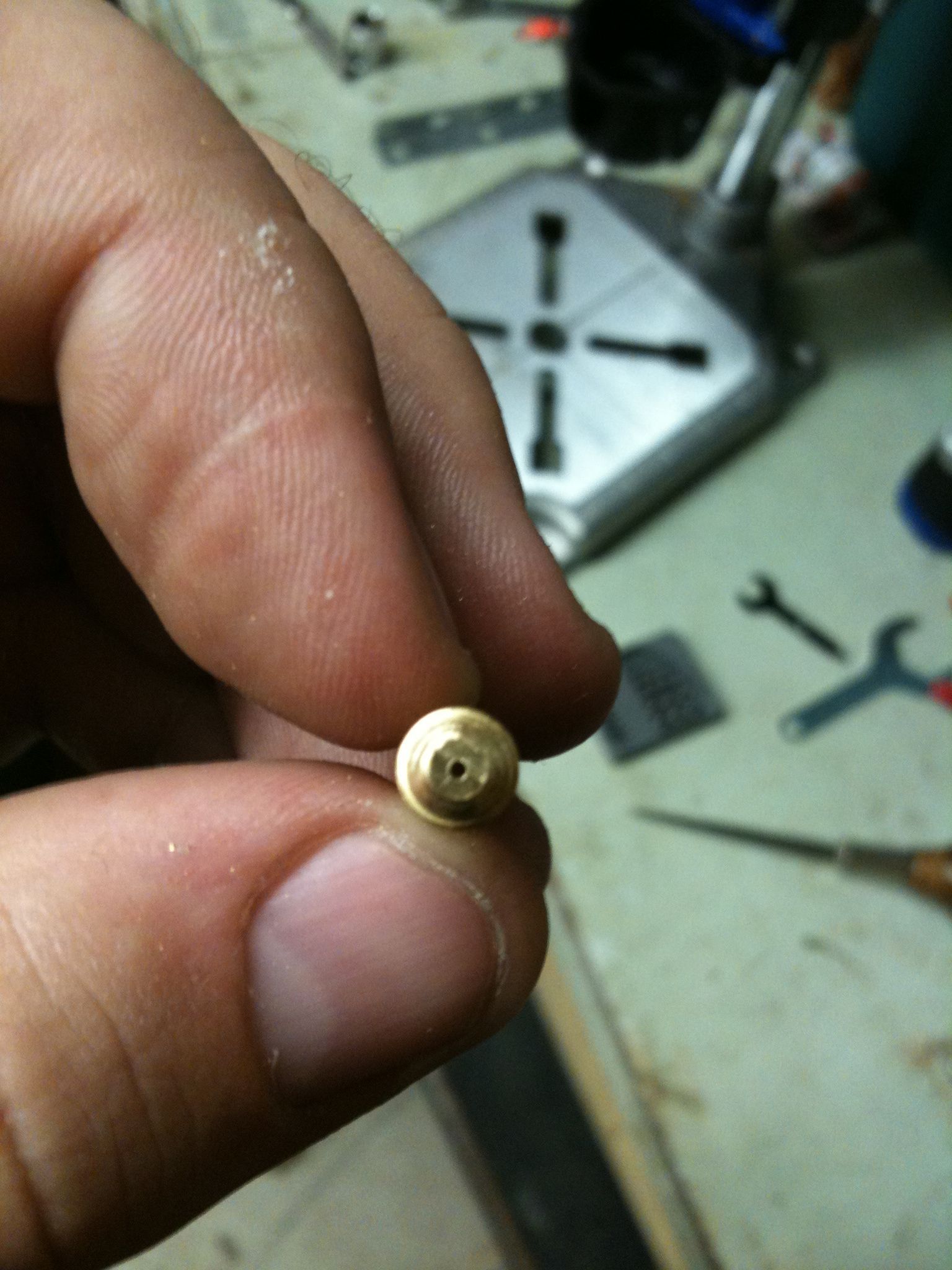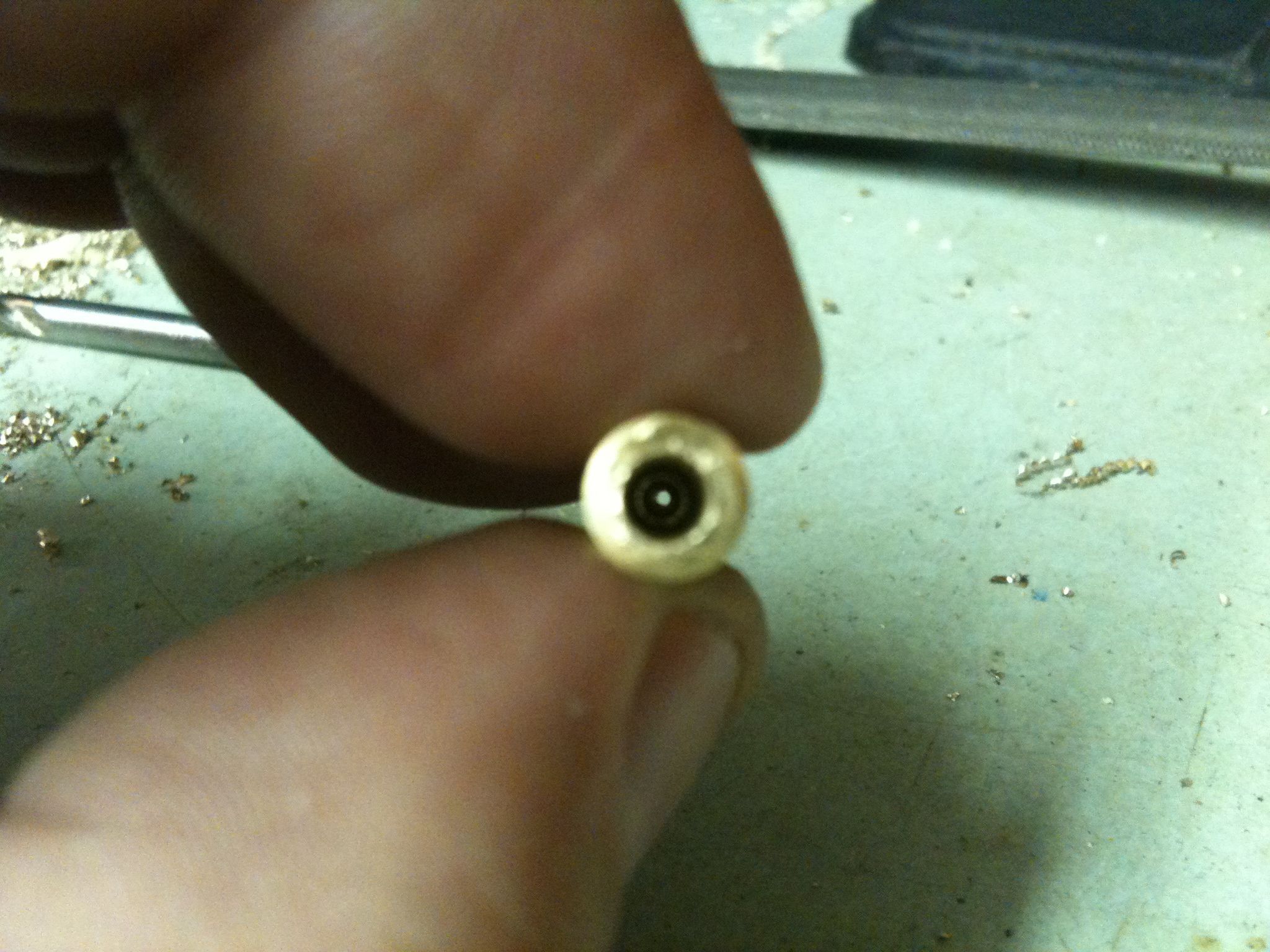 This time I tapered the nozzle edge first, by putting the entire brass piece in the drill press chuck, spinning it, and filing down the edges.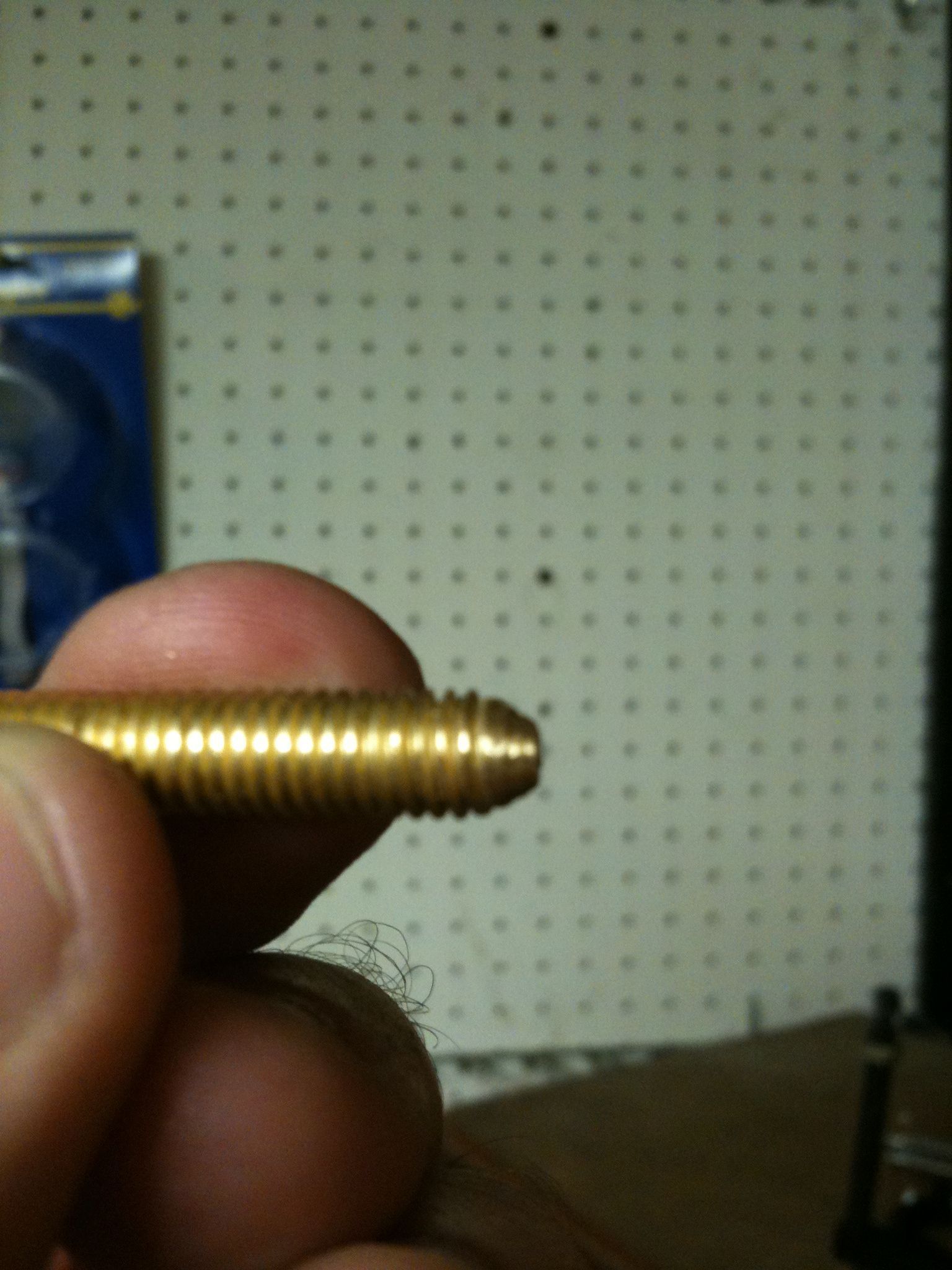 Here you can see how straight the new barrel is, alone and compared with the old barrel. I made sure not to let the barrel get too hot during any of the drilling: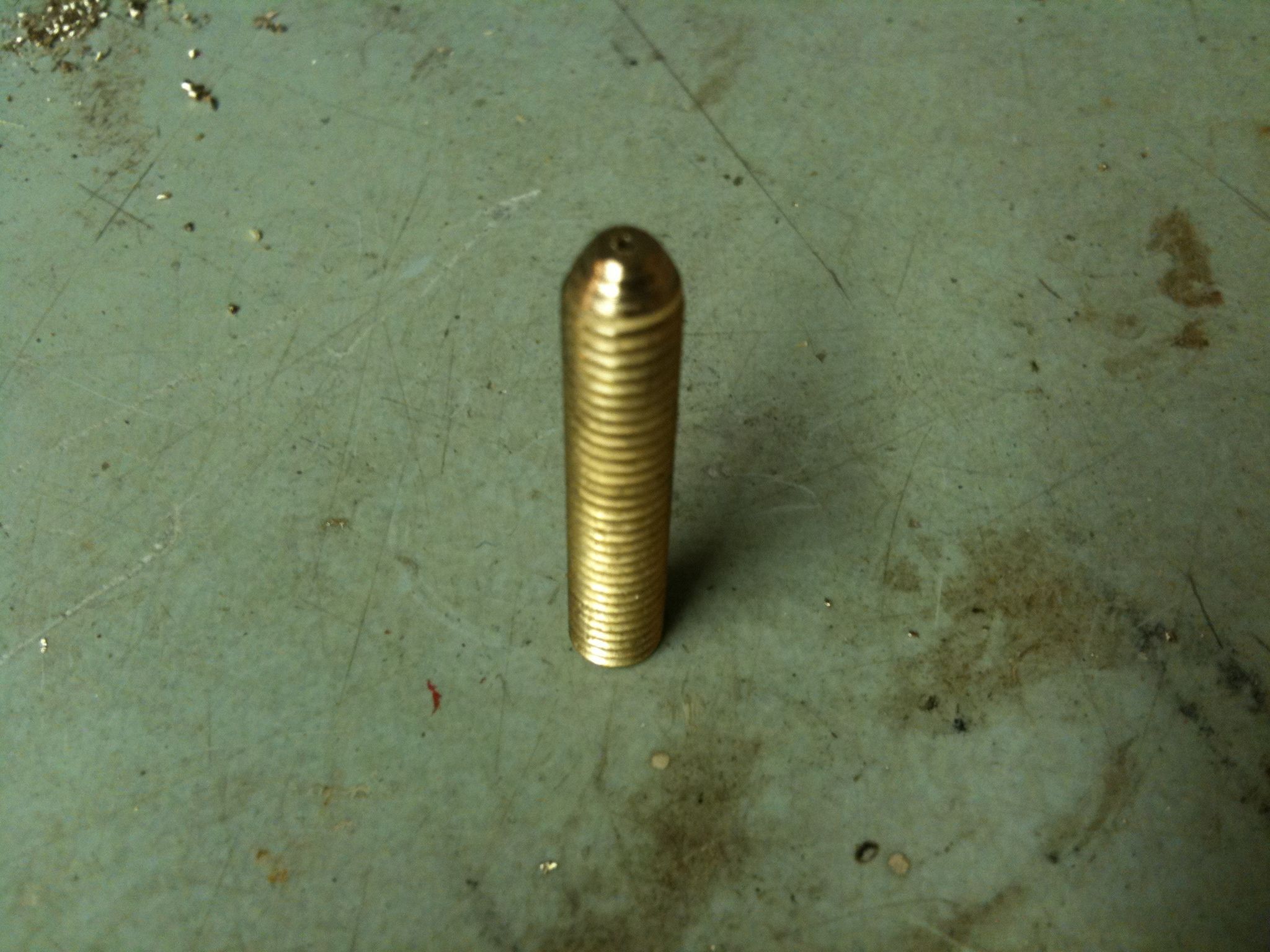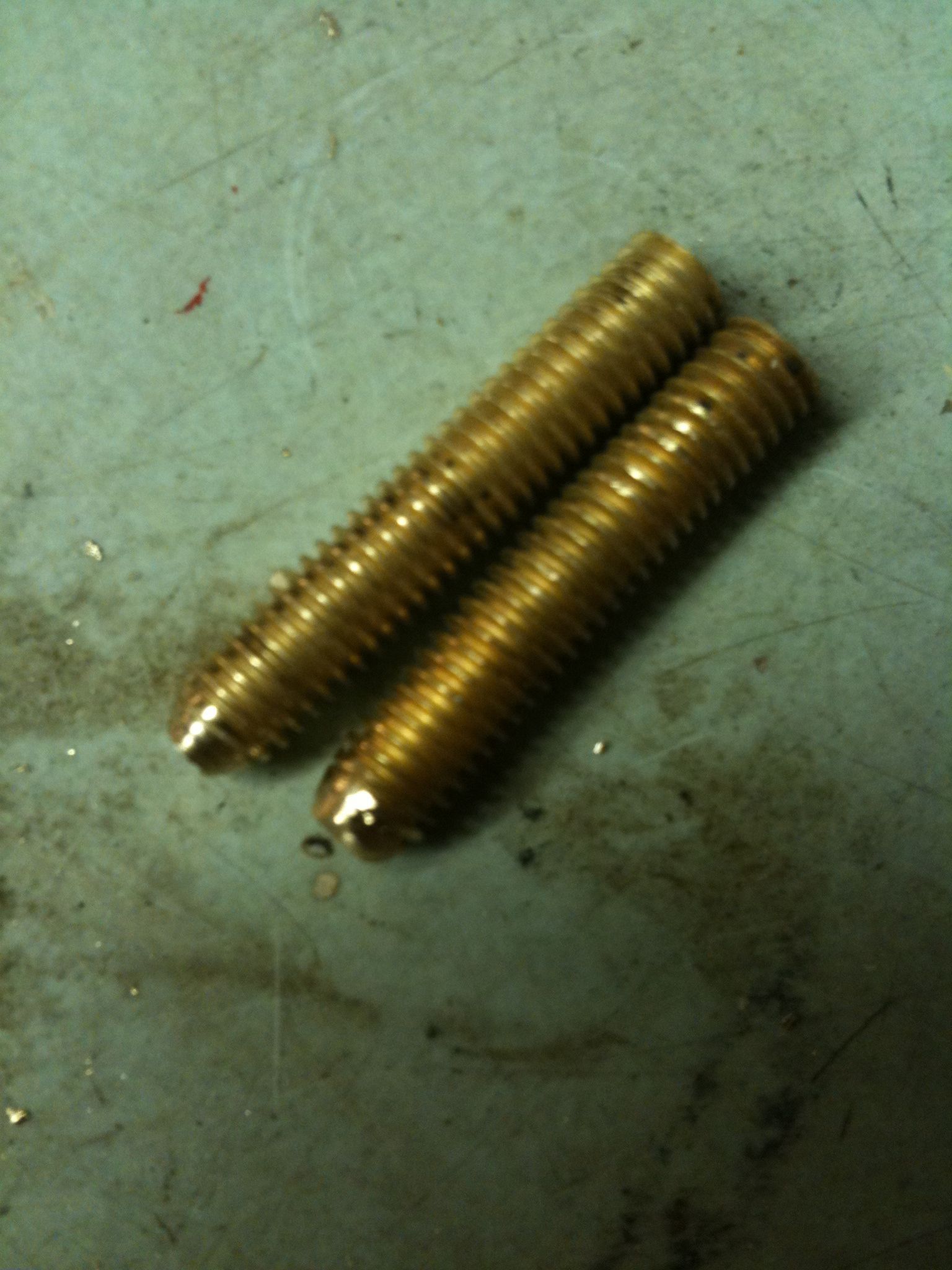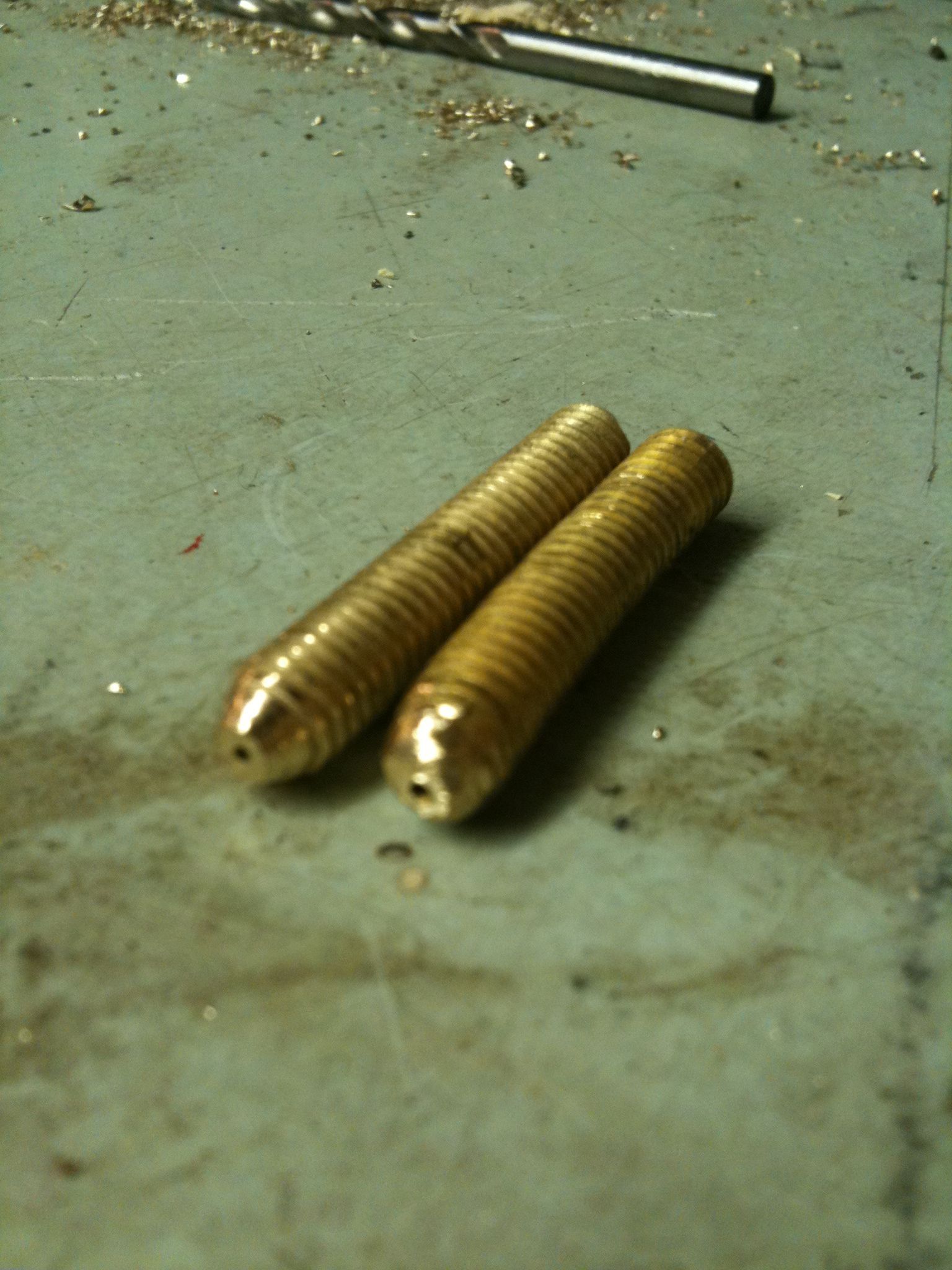 So that was the success part of the night. Wanting to finish another part, I moved onto the PTFE insulator.
I don't have metric drill bits, so I drillled a smaller-than-M6 equivalent (I forget what size exactly) in the 15cm, then used the 1/8″ to drill all the way through. When the hole came out the other side, it was waaaaaay off center.

I figured I'd continue the rest of the steps anyway so I could learn any future lessons on this PTFE scrap, and drilled a new all-the-way-through hole from middle on the other side.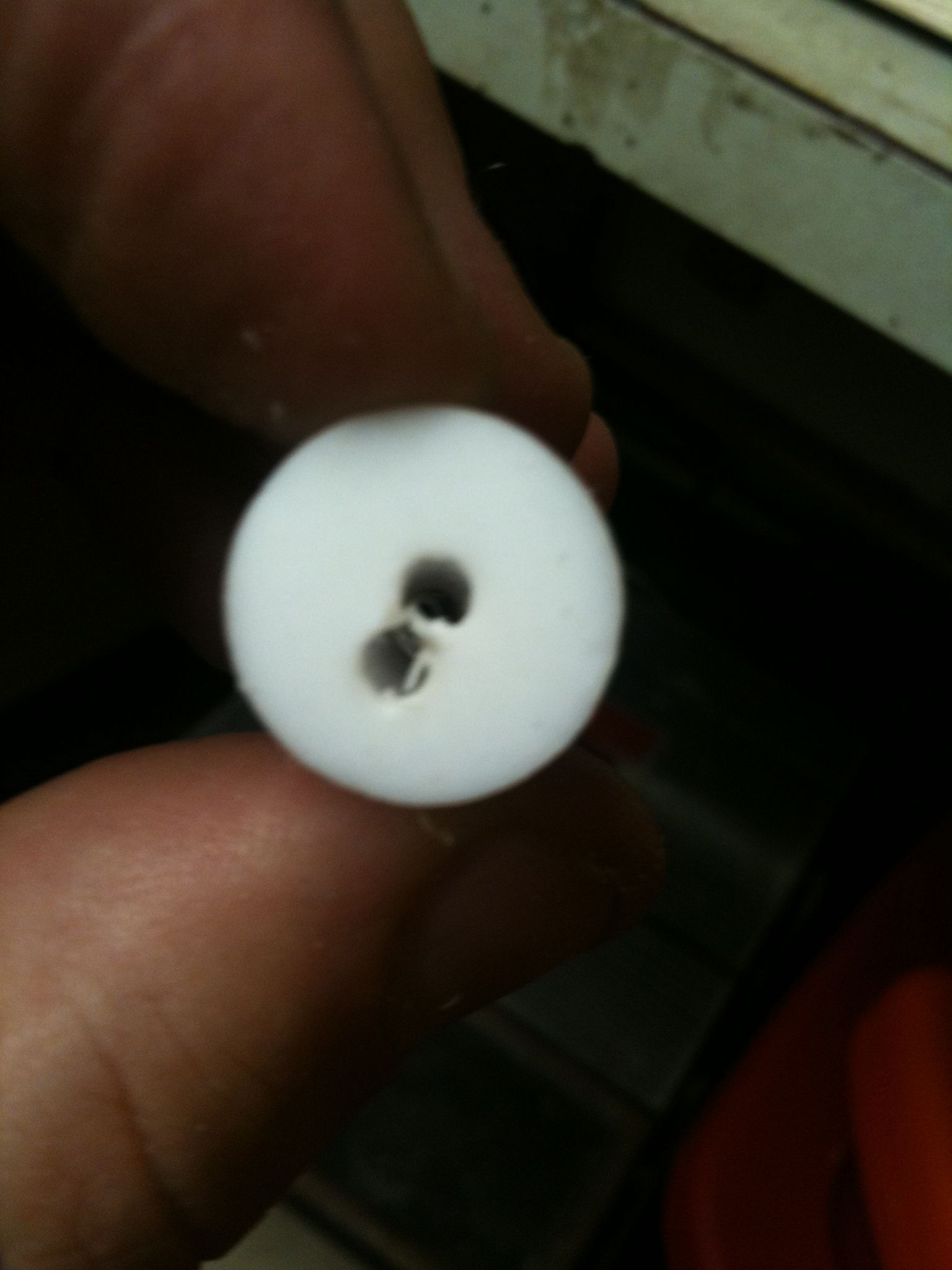 Other than that, it looked nice..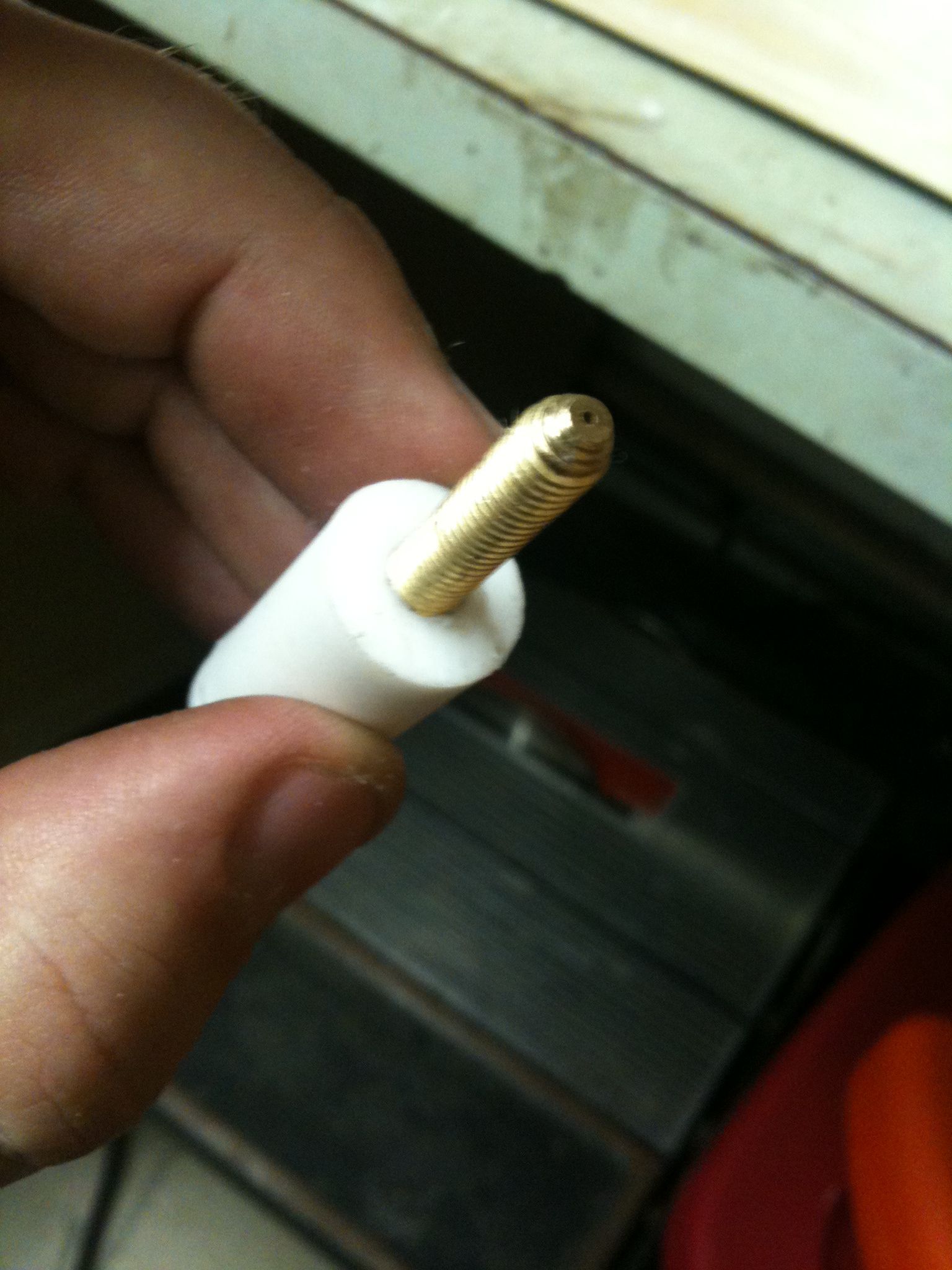 I even carefully put my precious barrel in my drill press chuck and spun the PTFE so I could use a triangular file to create the external notch seen here (I have no idea how anyone fit that in a normal drill chuck unless they mean what I did – put the brass barrel in the chuck):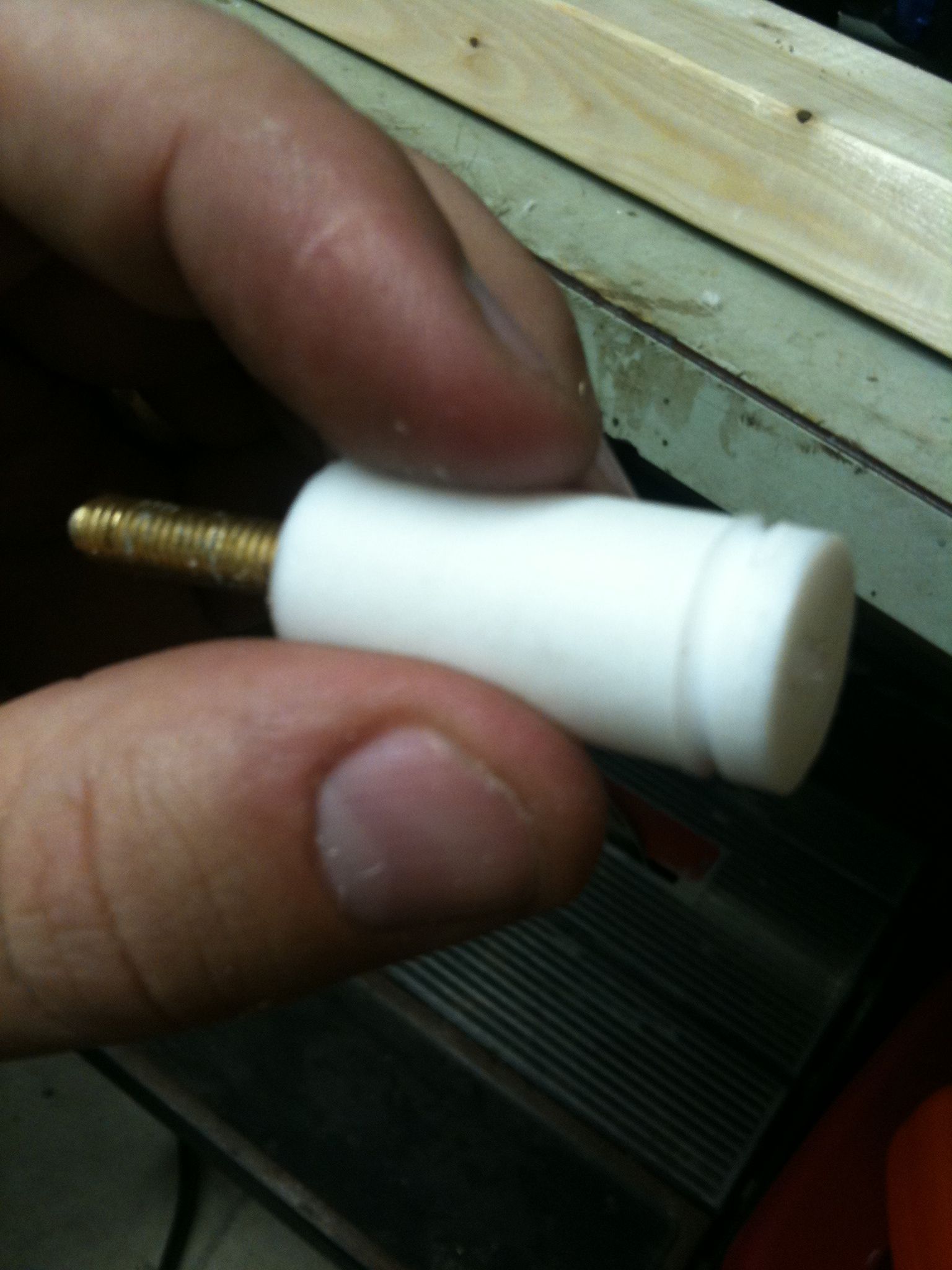 Still, that wobbled like crazy.
So, I have no idea how I'm supposed to actually do this drill-through correctly. I'd cut the PRFE with a small hand saw, but the other end was perfectly flat, and I'd had that on the bottom. It looked like it was lined up well. I have no idea how to hold it down – all I could come up with was this messy collection of clamps: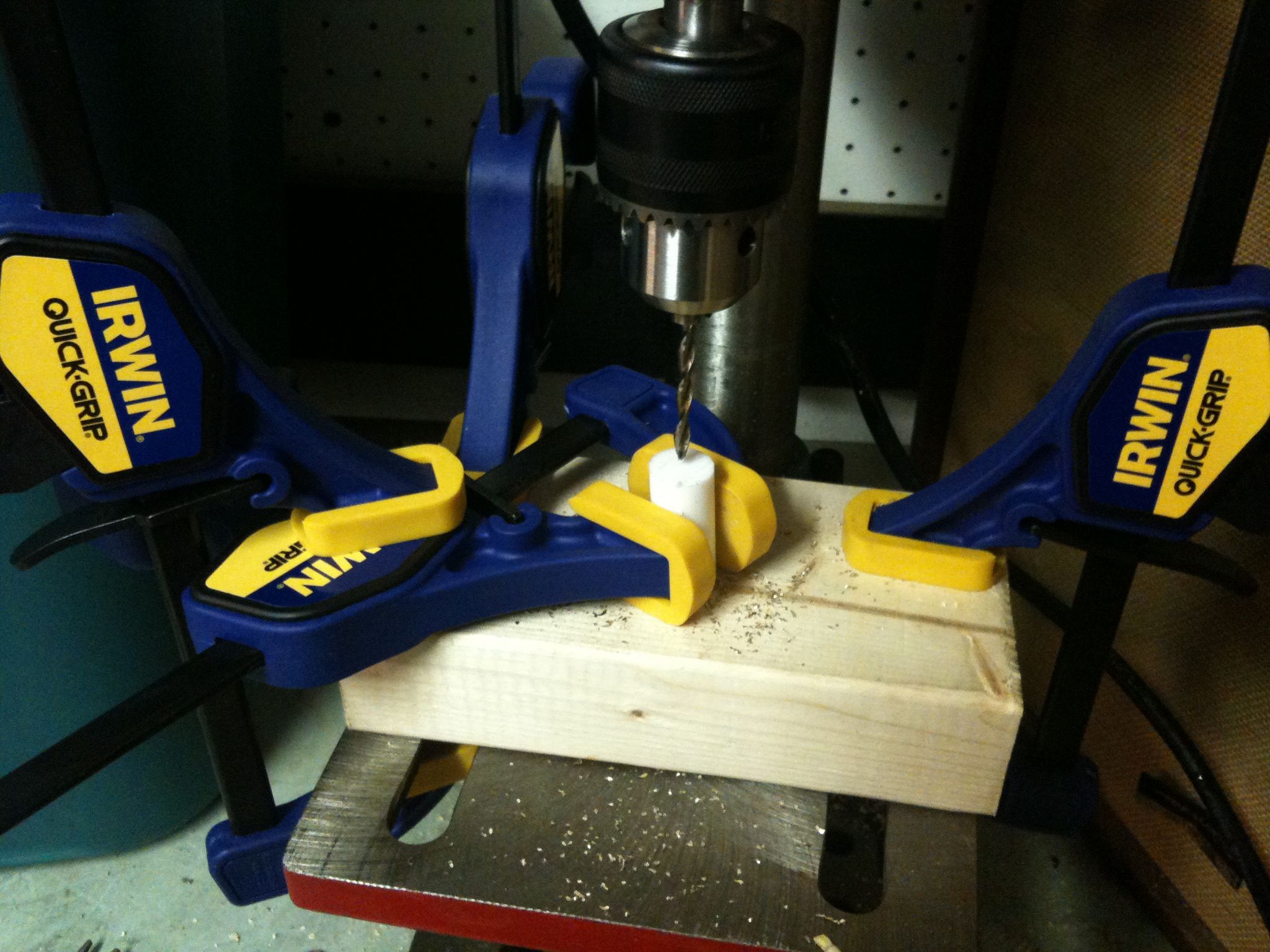 I think I want some way to drill a small hole in clamped down wood, mark the center of PTFE on one side, somehow anchor that center to the wood hole (like a very small nail maybe?), then line the top of the rod up with the bit (then obviously stop before I reach the nail), but that sounds crazy. Maybe I should google how people actually use their drill presses.

I think it's crazy that I could so precisely hollow out a tiny brass rod, but this huge PTFE piece is causing me trouble.