On April 27th 2013, I started cutting the rods for my second RepRap (a Prusa IT2). I was just about to permanently give the other Prusa IT2 that I'd printed and assembled to the Museum of Science in Boston (see more below!), so I wanted to overlap them and start construction on mine before handing them theirs, to keep my motivation up and avoid any empty nest syndrome. 🙂
Here are two of the pictures of the rods, freshly cut and ground, as I posted at the end of the last post: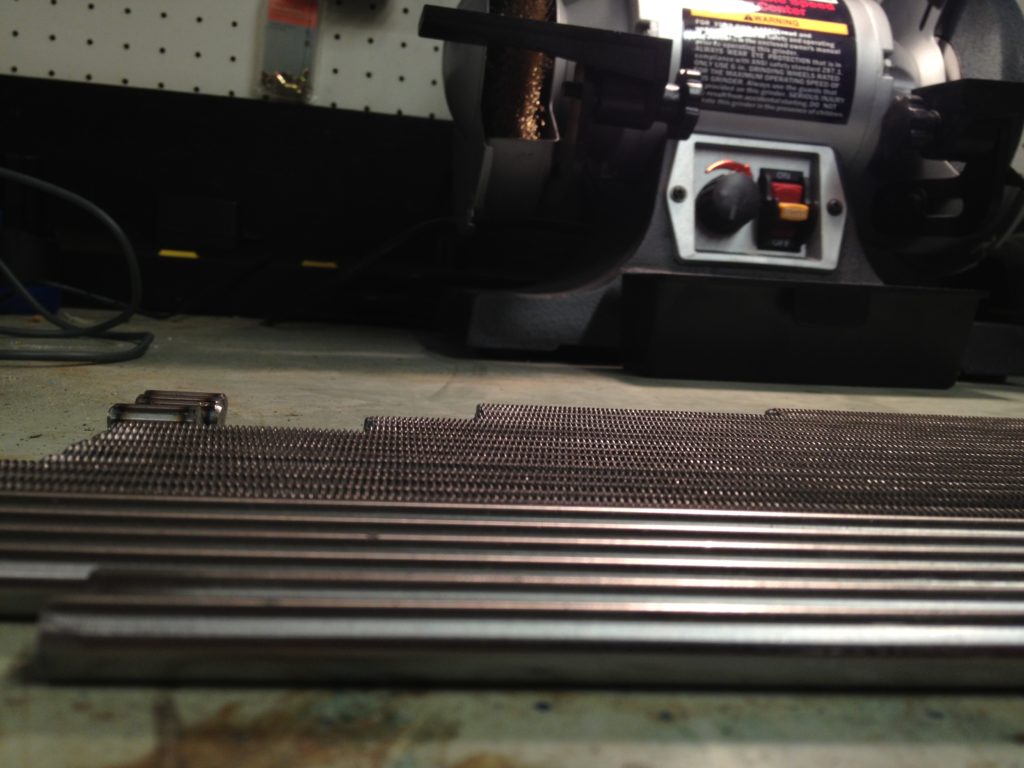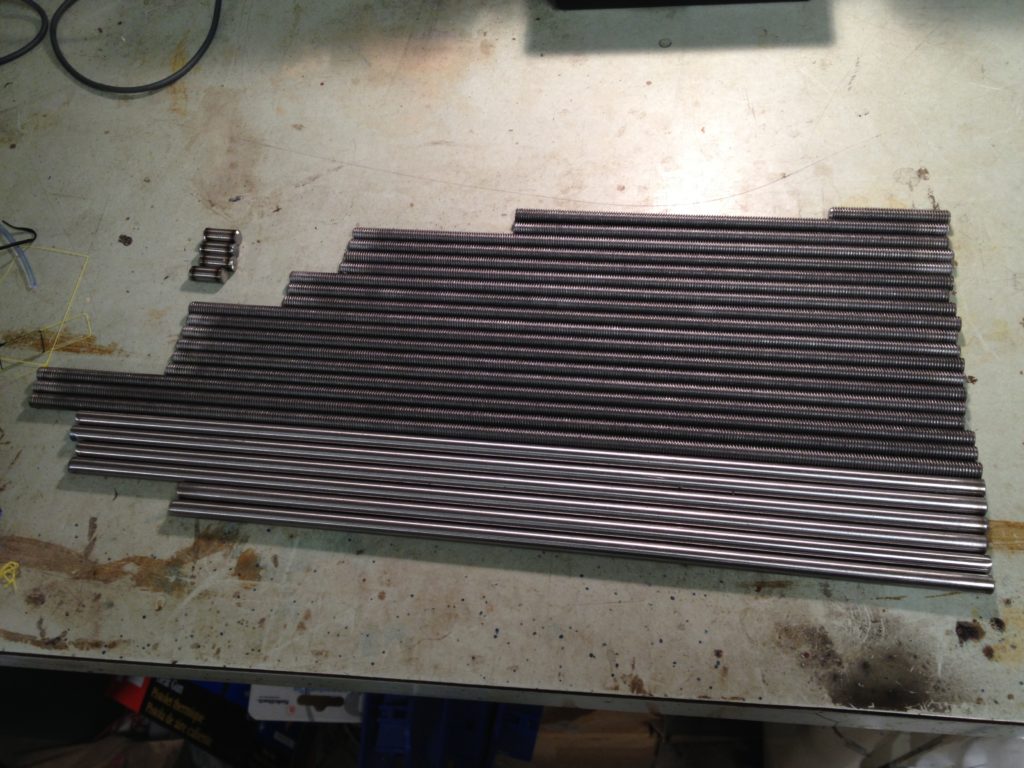 I started assembling the frame..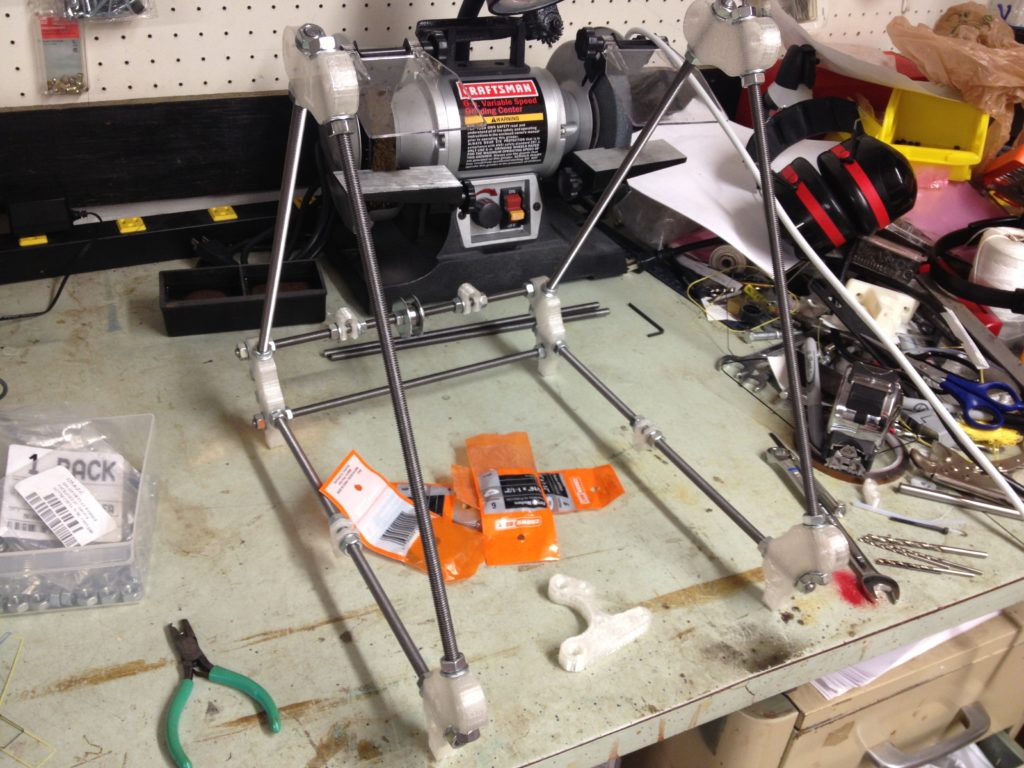 Then I got to the Y-motor mount on the front. I had decided to try a new version that had an integrated belt-tensioner (this one here)). I had the one I'd printed for Joe Werther, but I couldn't find the one I'd printed for myself. After looking everywhere, sighing, and deciding that I must have left it at work or something (and I'd have to wait until Monday to get it), something occurred to me…..
Here's a picture of them (you watched the video right?):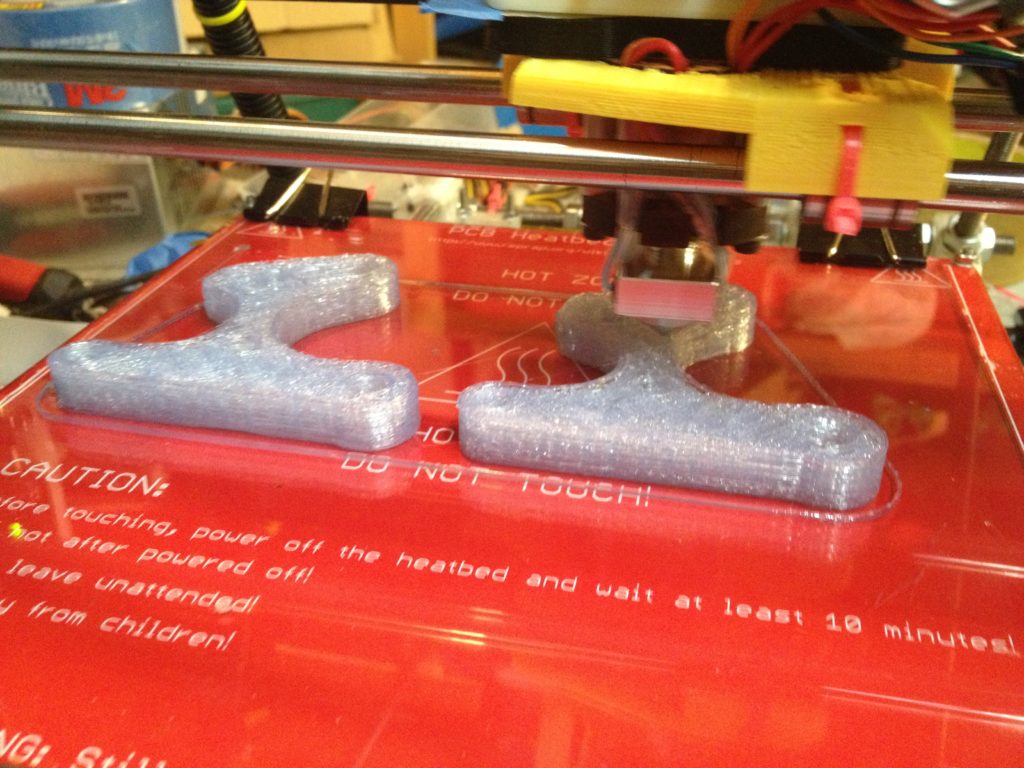 Here's a more dull one you can skip, unless you use that y-axis bracket and have problems with the trapped nut..
Here it is on the RepRap, holding the Y-axis motor: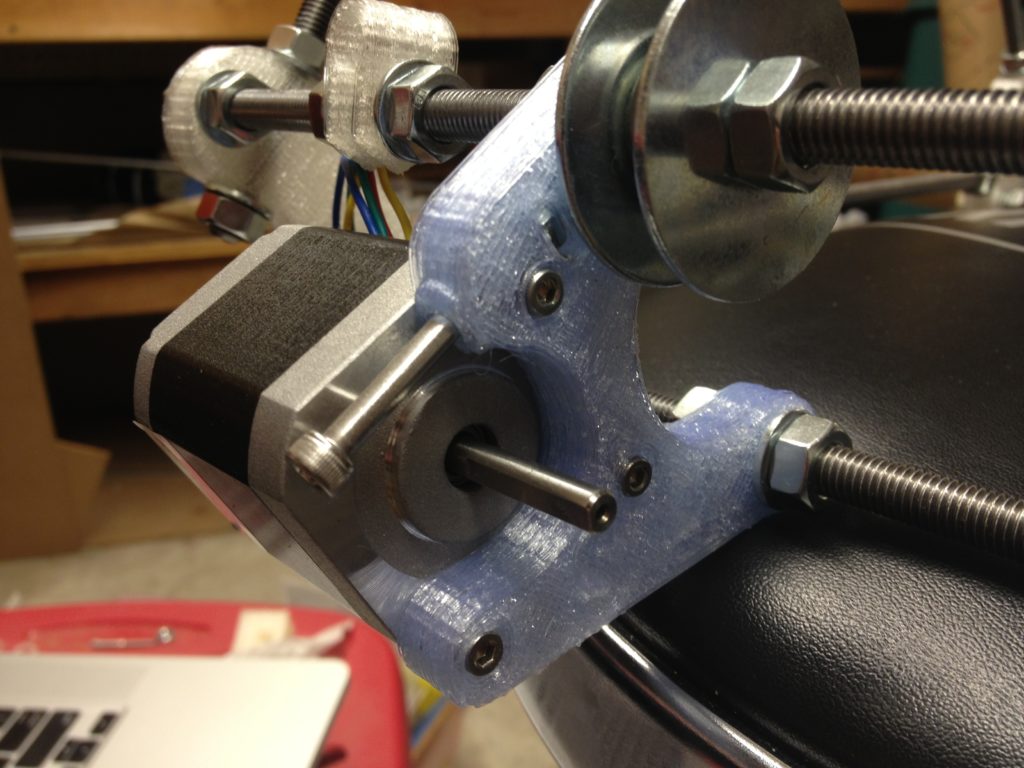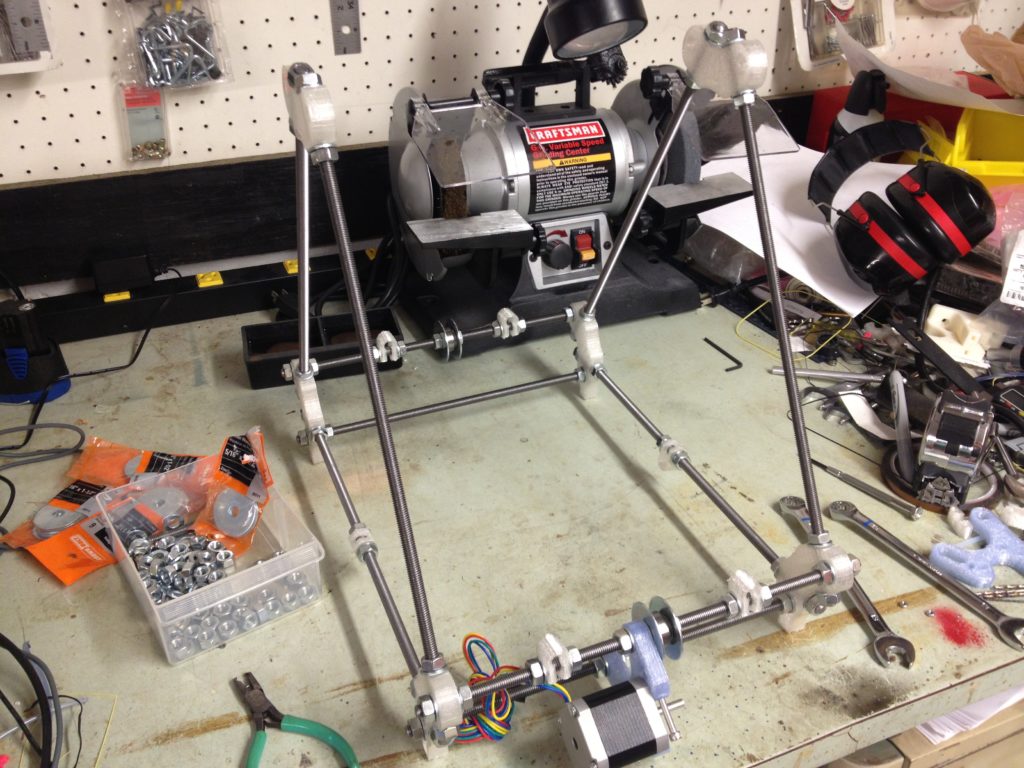 Here's just a cool picture from the side of one of the upper frame vertices: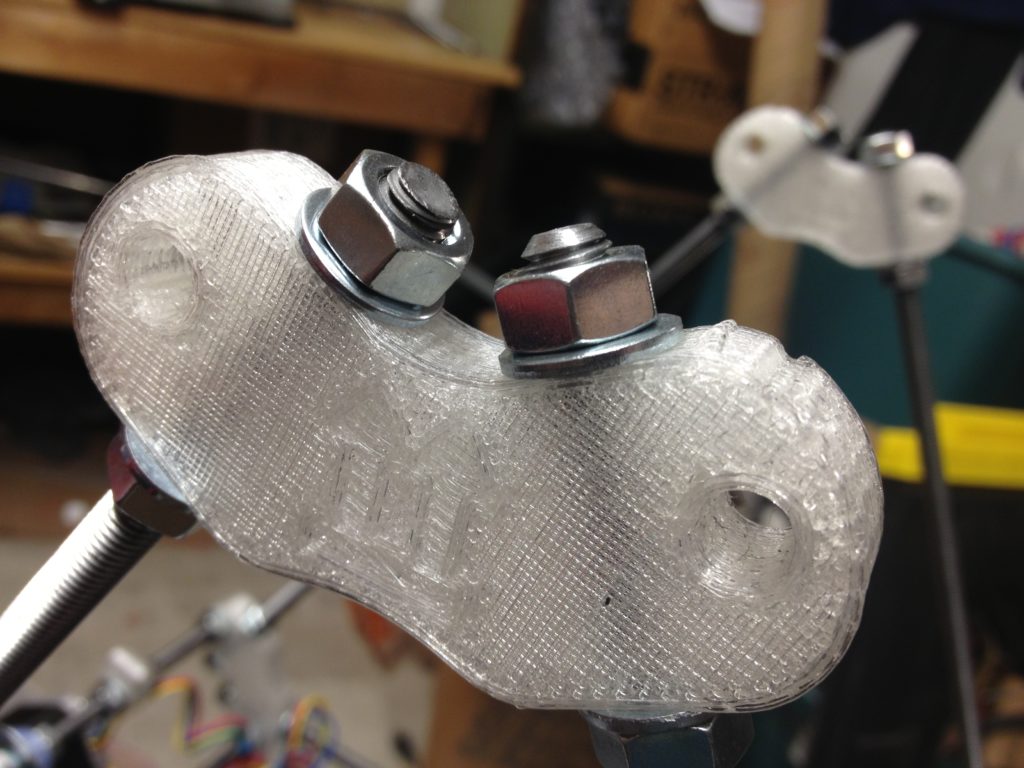 I had successfully started enough of my second RepRap that I didn't fear any lull after giving the Museum of Science their RepRap, leaving an empty space on my desk. Ok, back to the Museum of Science's RepRap. I was getting ready to hand it back on April 30th, 2013. The day before, I did a few last prints. I had tried printing a SOMA puzzle but the pulley on the X axis was loose and fell off, resulting in this: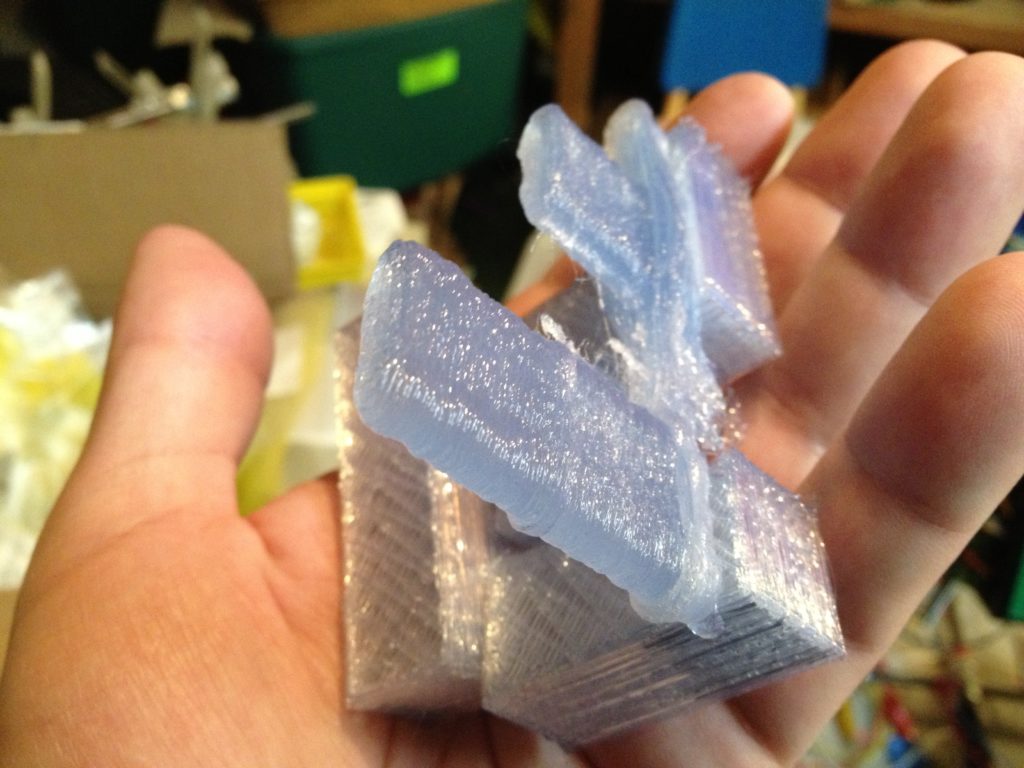 I fixed up the pulley but didn't have time for another attempt at the SOMA puzzle. I printed the last print that I'd ever print on the Museum of Science's RepRap at my house, another keychain bottle opener: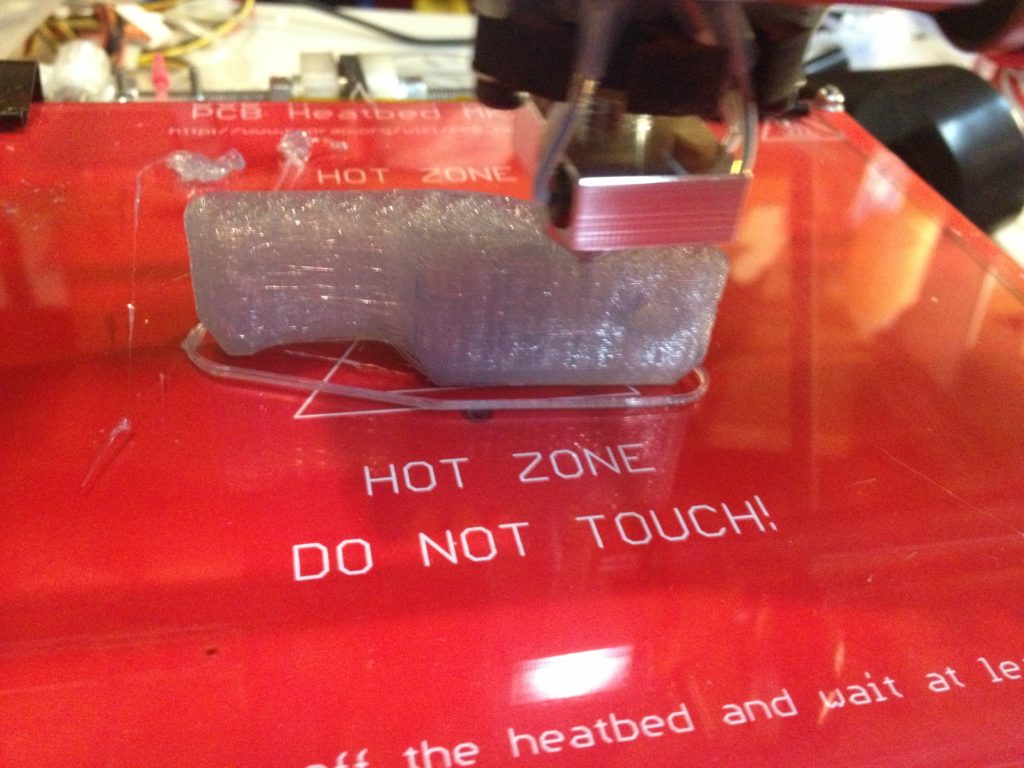 Thank you Museum of Science Boston for all my childhood memories! Here is my small way of paying back.
I packed it up in the car, ready to be driven down to Boston (I'm about 30 minutes North of Boston in Methuen).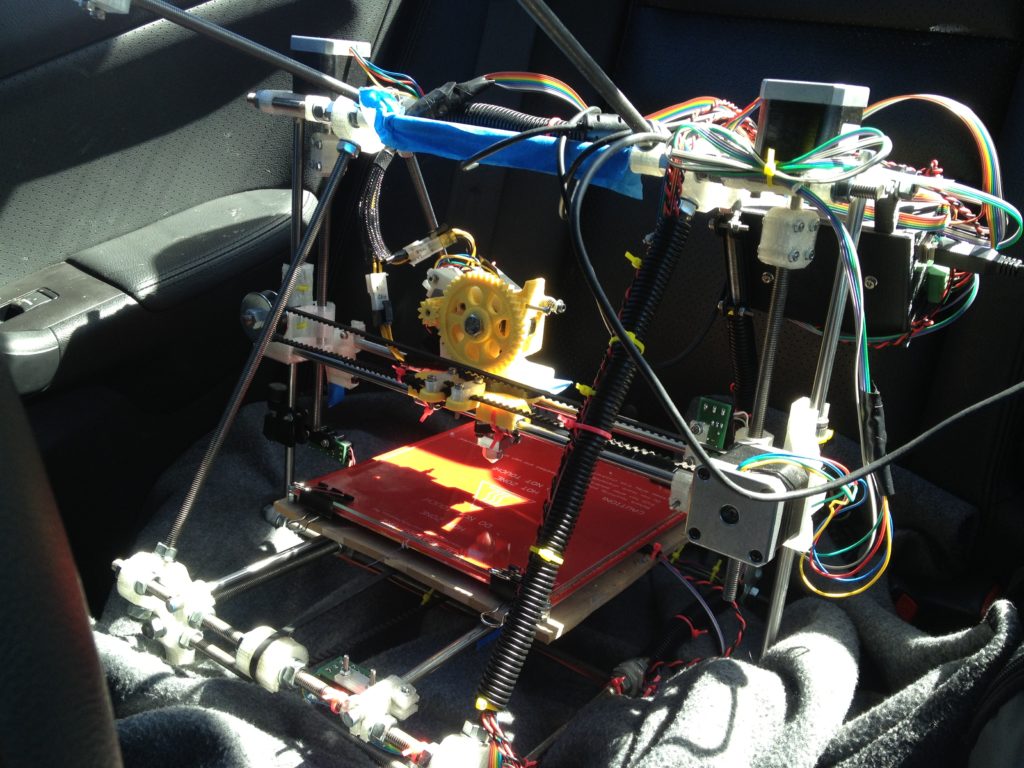 Here was the view of the Museum of Science as I drove up..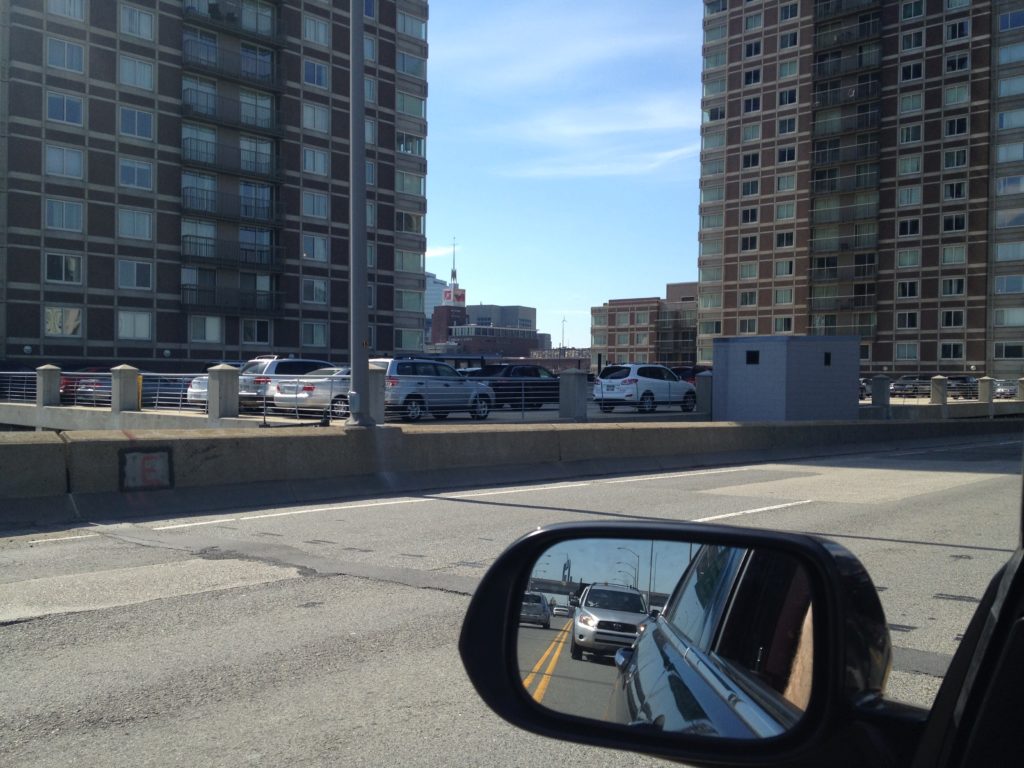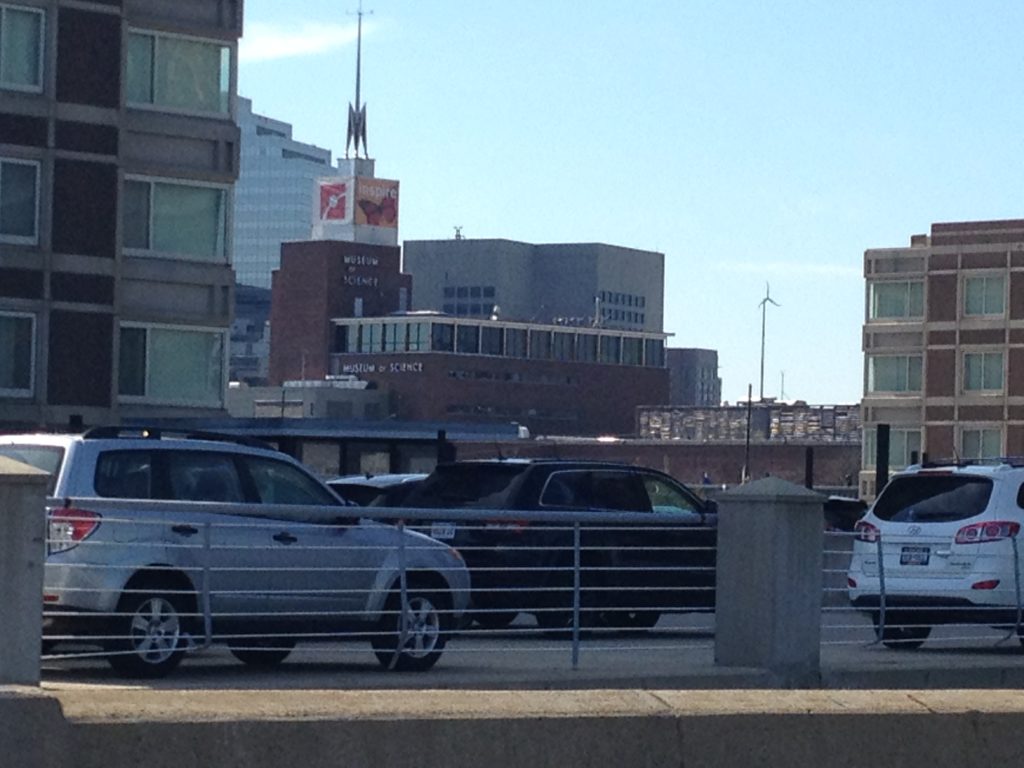 In the Museum lobby I couldn't resist taking this picture specifically for this post: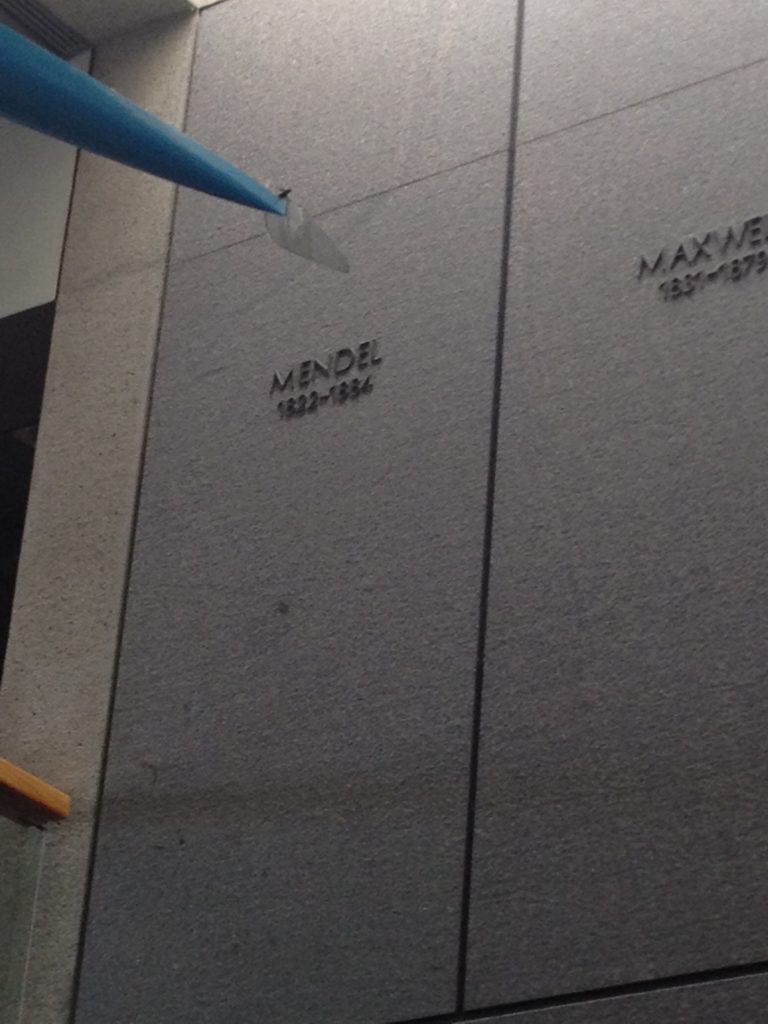 🙂
They brought me way back out into an internal part of the Museum that I'd never seen, past the animals exhibit. I passed by a whole bunch of caged animals and at some point saw this weird (one of many?) store room with random stuff stowed away: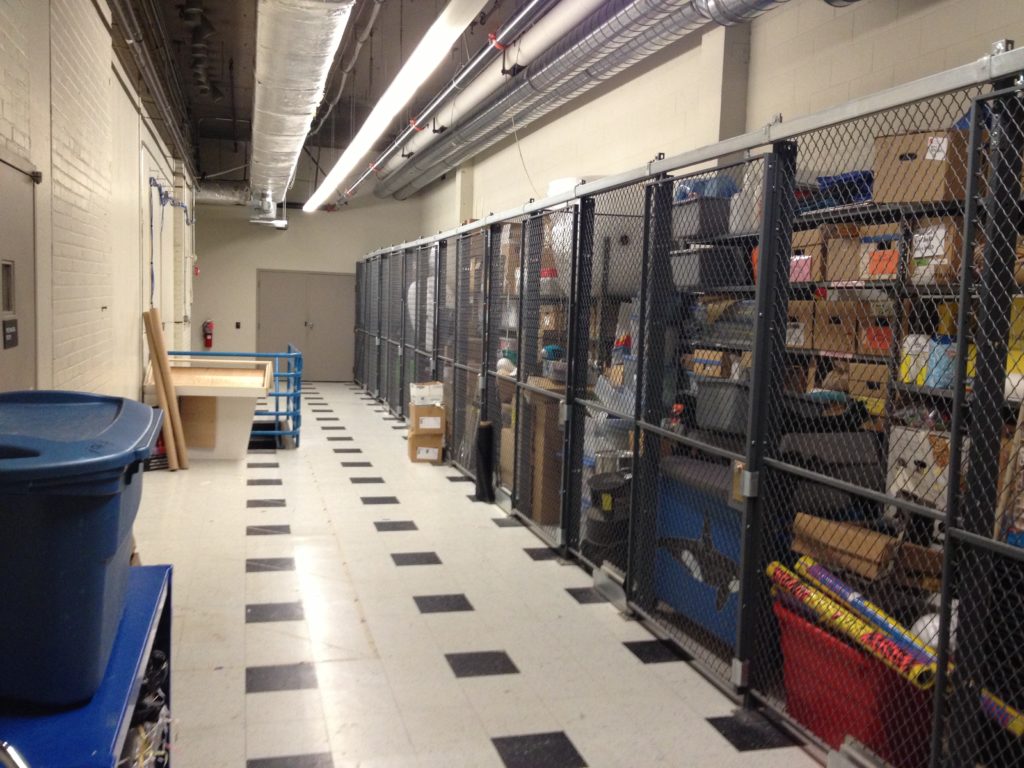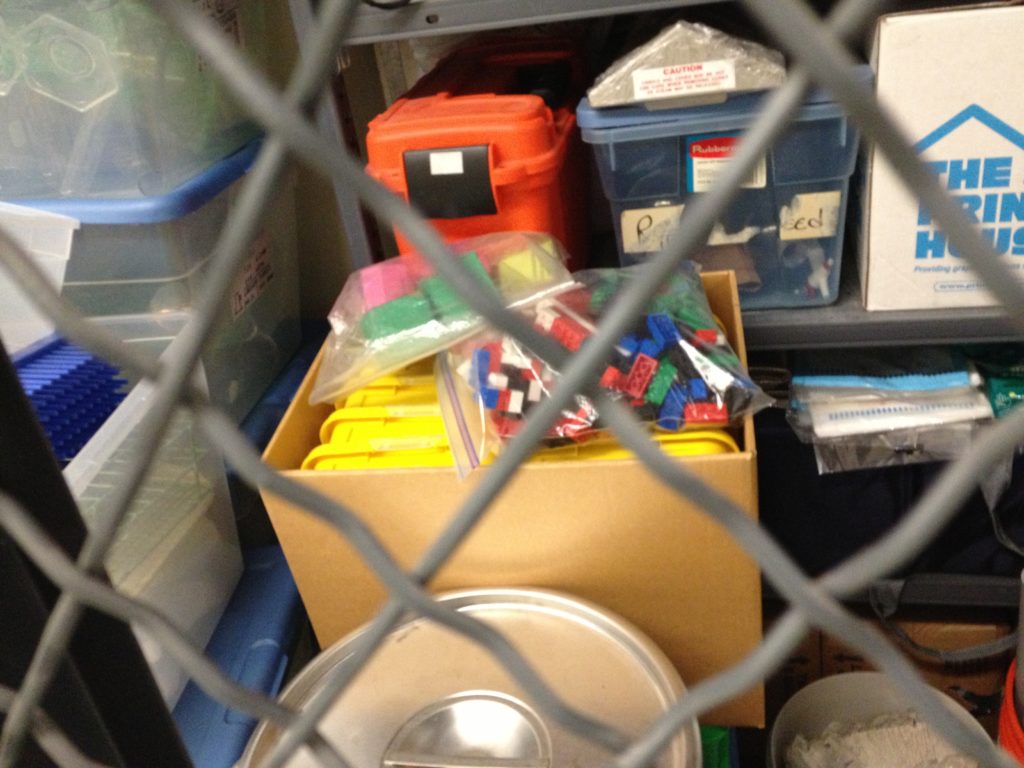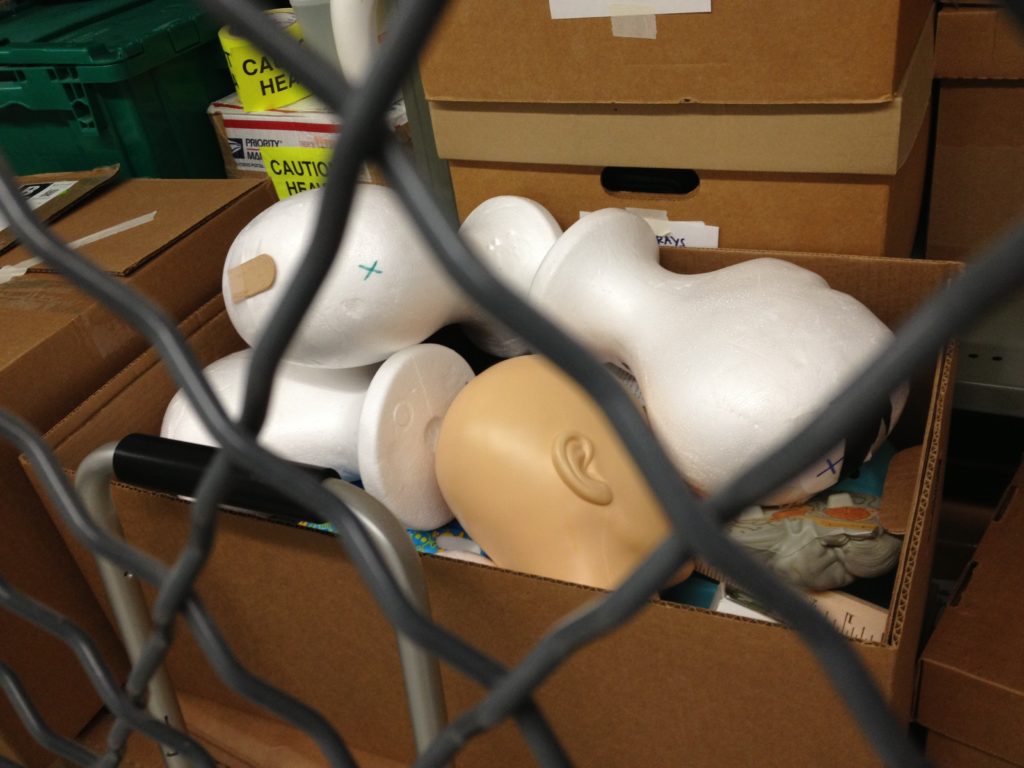 (What'd they need the heads for?)
Way in the back there was some office space with just a bunch of cubicles. It was very quiet compared to the rest of the museum. That's where we set up the RepRap so I could spend the day showing them how to print, what will break on it, how to fix it, etc.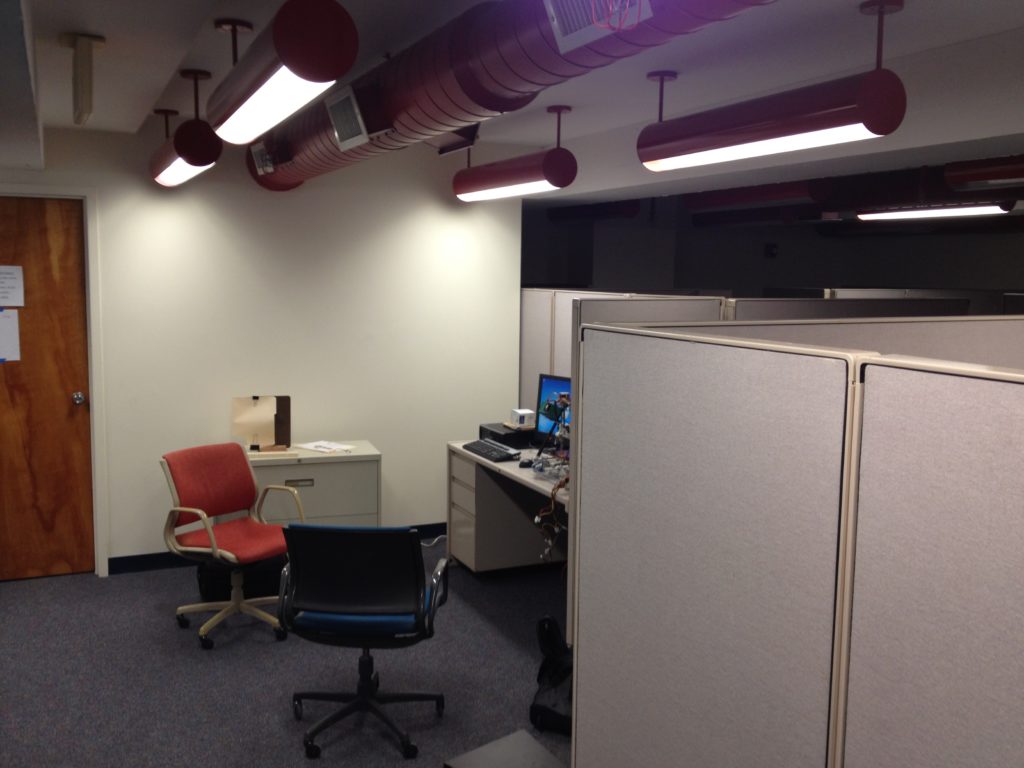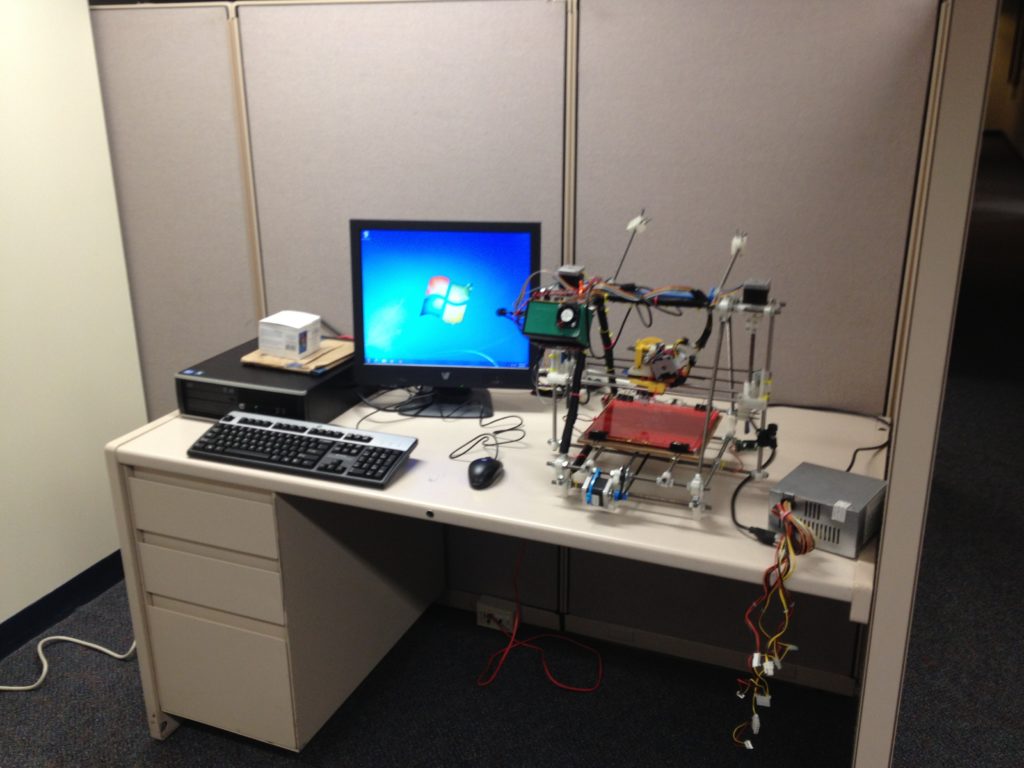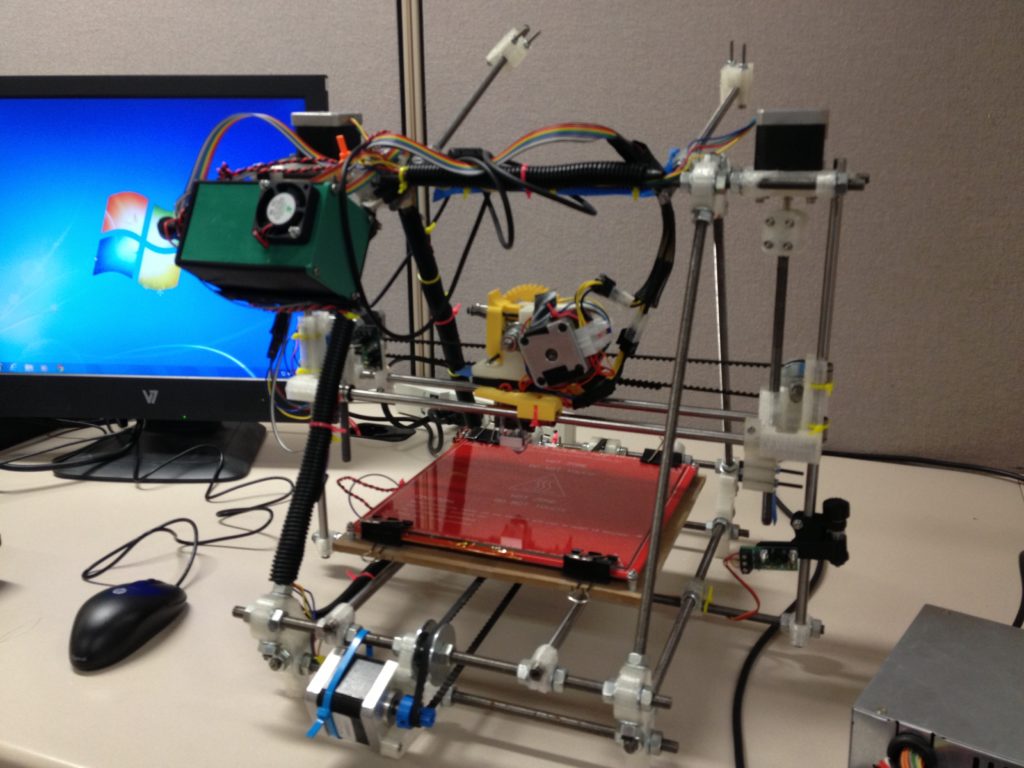 I spent the day helping people like Matthew Strumpf, Julia Sable, Keith Simmons, Ben Jones, Miriam Ledley (and some others whose names I can't remember a year and half later) learn how to print with their new RepRap. It was great.
Here's the visitors badge for the day I gave them the RepRap. I don't know why that seemed so cool to me but it was: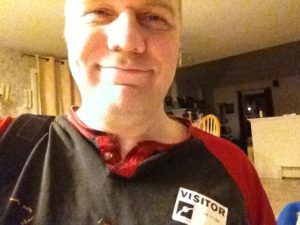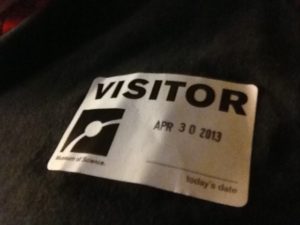 Driving home from the museum, I rewarded myself with what is now becoming a tradition when driving home from the Museum of Science.. Vegetarians look away.. This was my meal at Tudo Na Brasa in Woburn: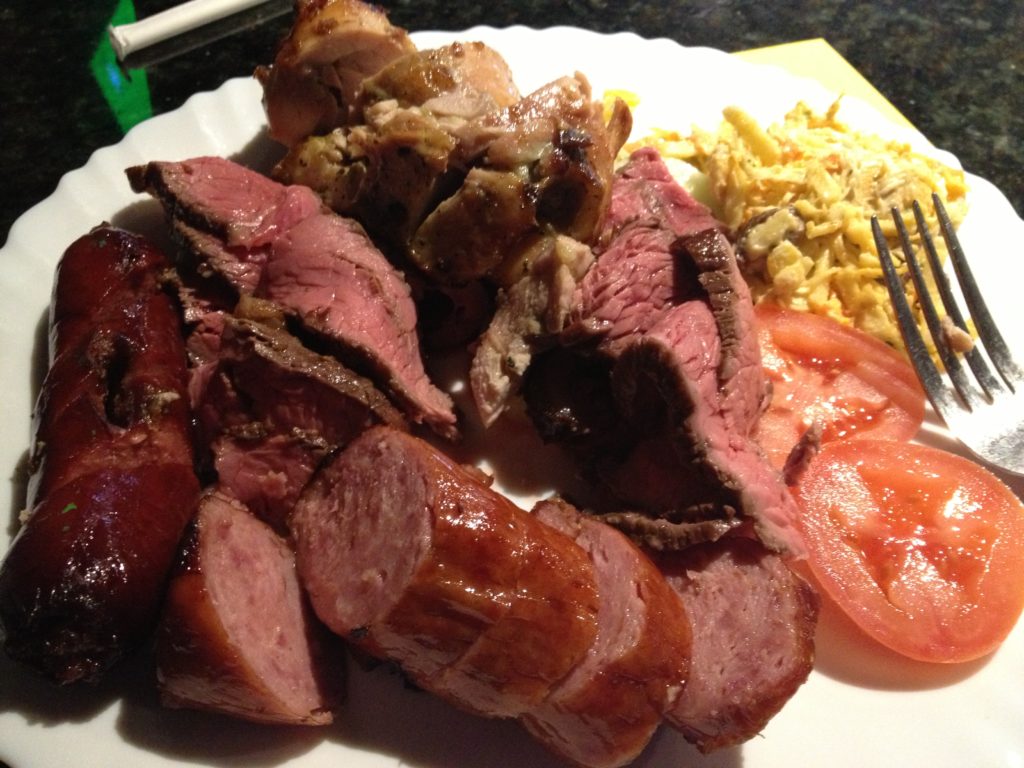 Again, that was April 30th, 2013. Today is September 13th, 2014, over a year and a half later. Since it was in the past, for the purposes of story telling, I can skip forward a few months (even in front of other RepRap stuff I'll blog about later) to show you what it looked like once they put it on display. They had it in that back room for some period of time to play around with it (maybe a few months? I don't remember). Later I heard from friends that they'd been to the Museum and saw it on display. Laurie and I took the kids down on July 21st 2013, and we got to see it set up and printing. It was glorious.
Where are we going?
(Cara's line at the end there was "To see Daddy's RepRap!" 🙂 )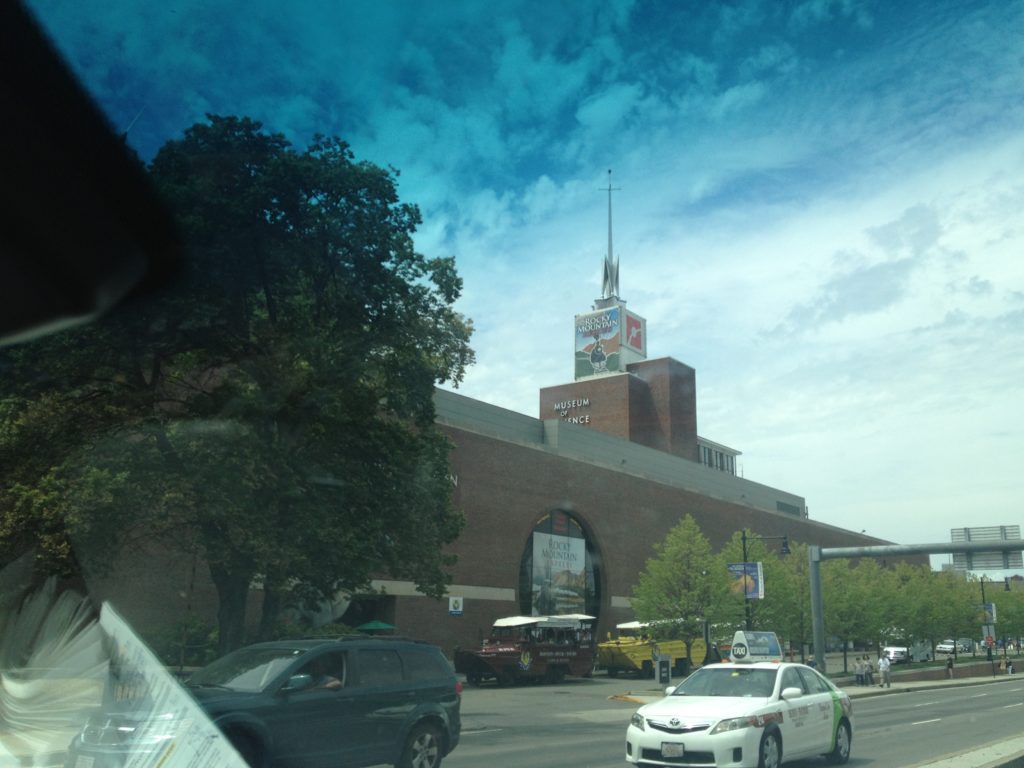 Here it is!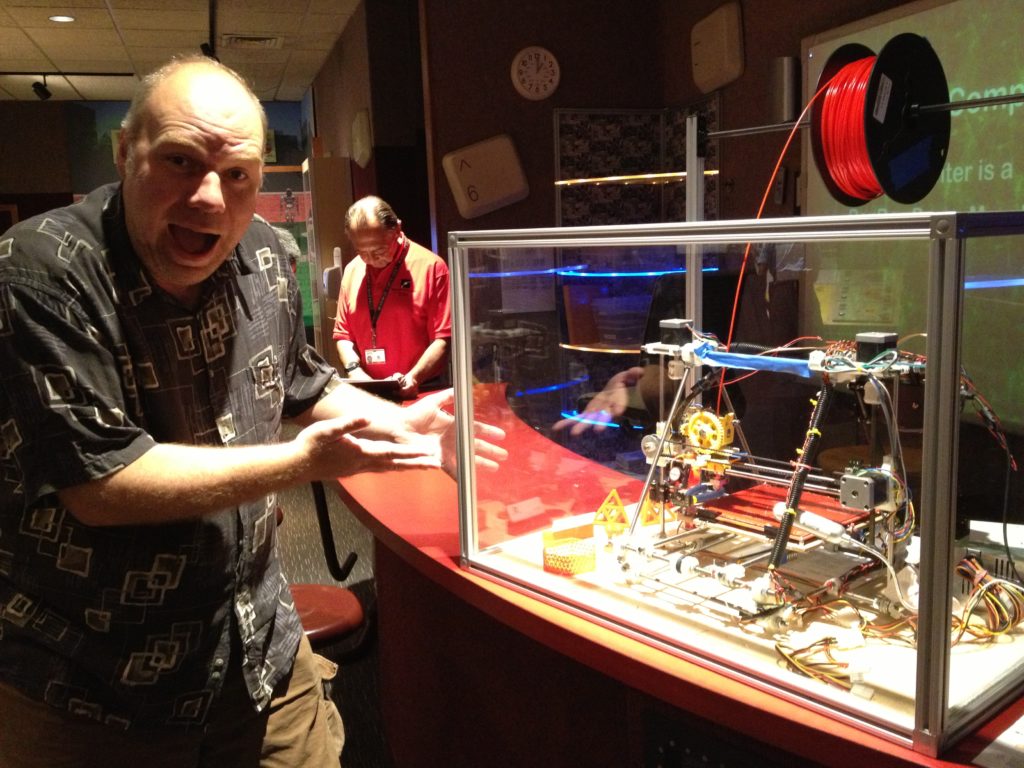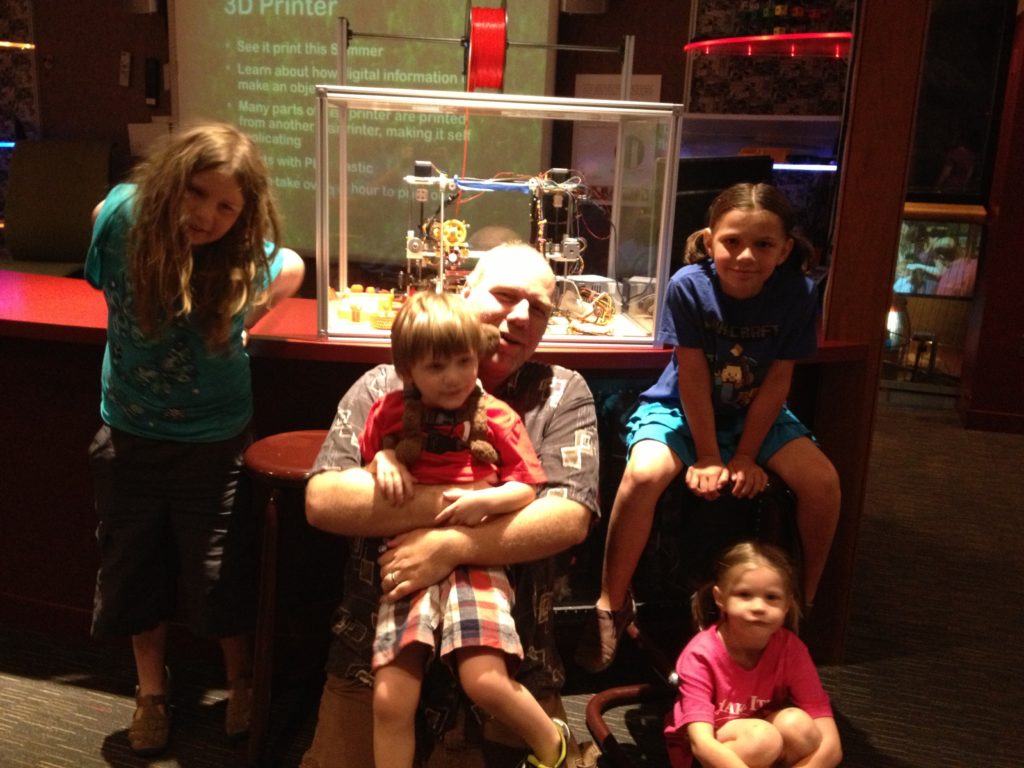 Here are some more pictures: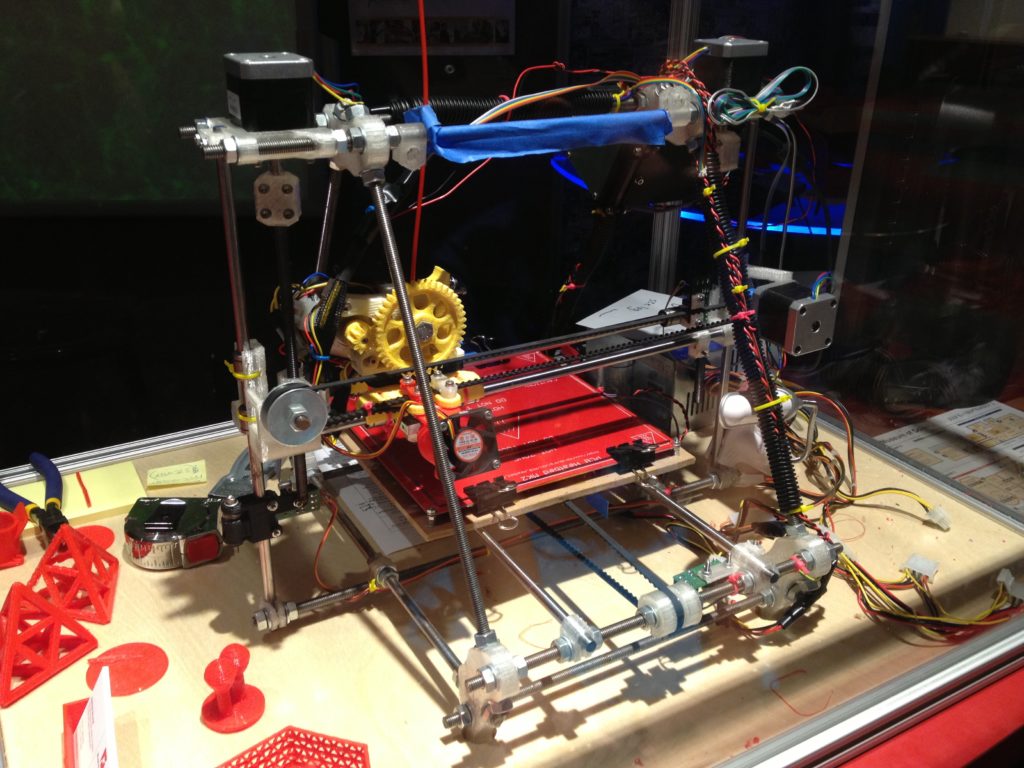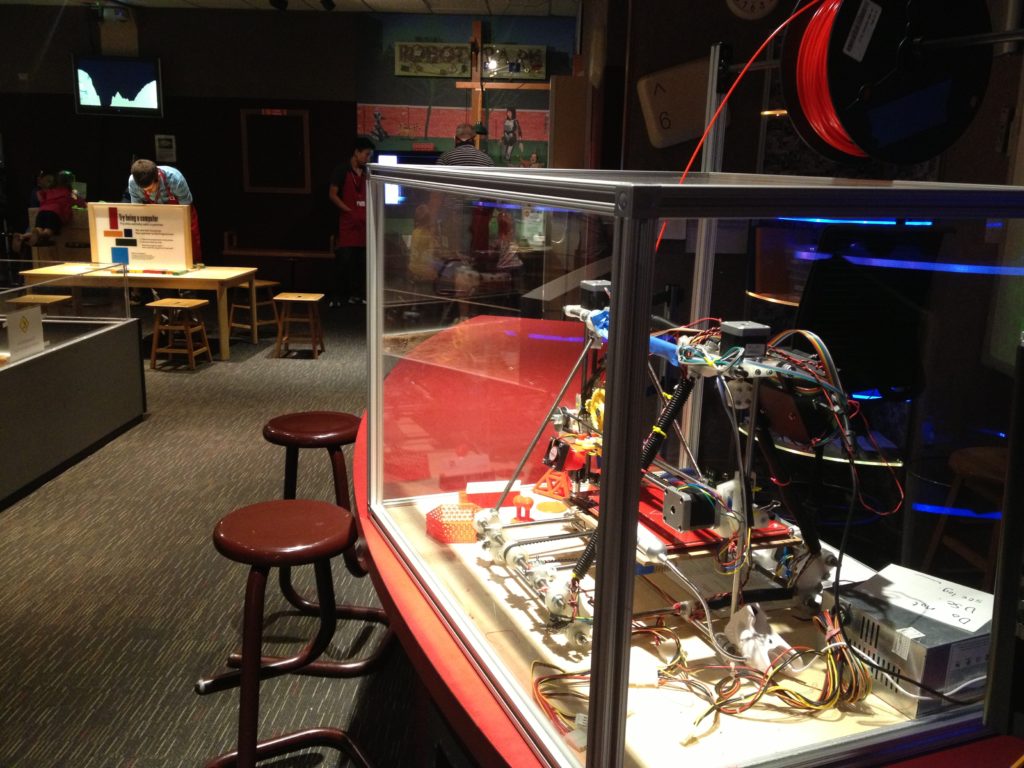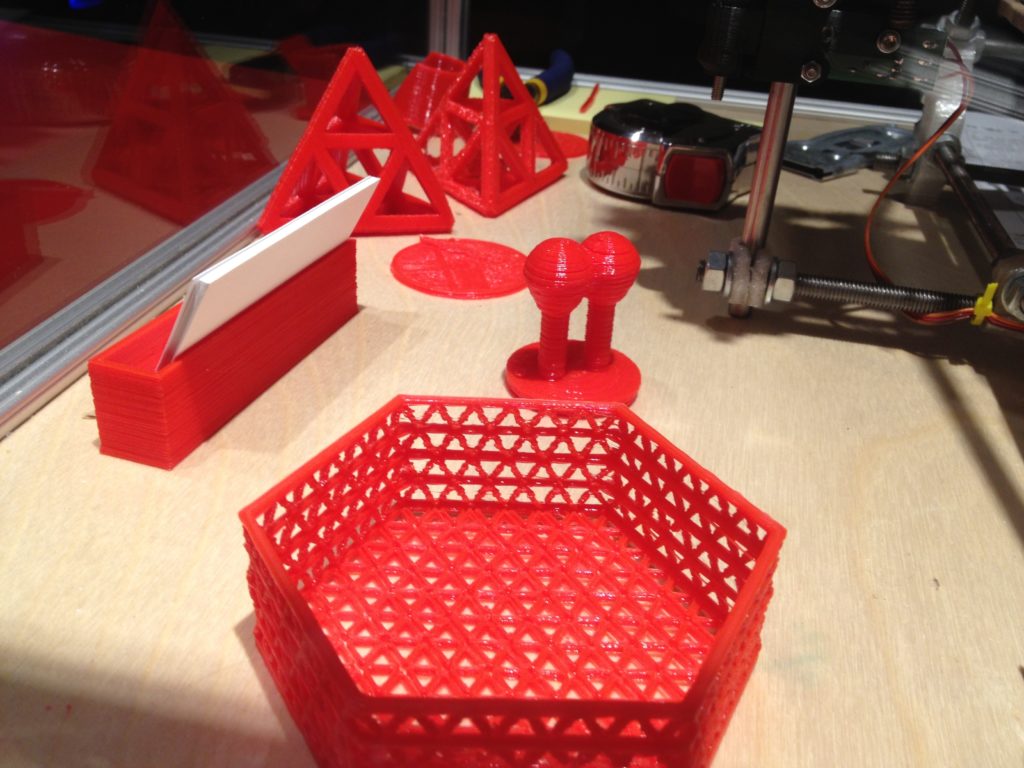 While staring at it, the guy working there said something like "that's a 3D printer!". I said it looked great, and tried explaining that I made that printer. He nodded as if to say "ahh, yes people are doing that these days" or something, and I explained "I literally built that one right there, and gave it to Matthew Strumpf a few months ago". He lit up with understanding, and said "oh wait, he's in the back room. I'll go get him".
He came out and showed me the stuff they'd been printing with the printer.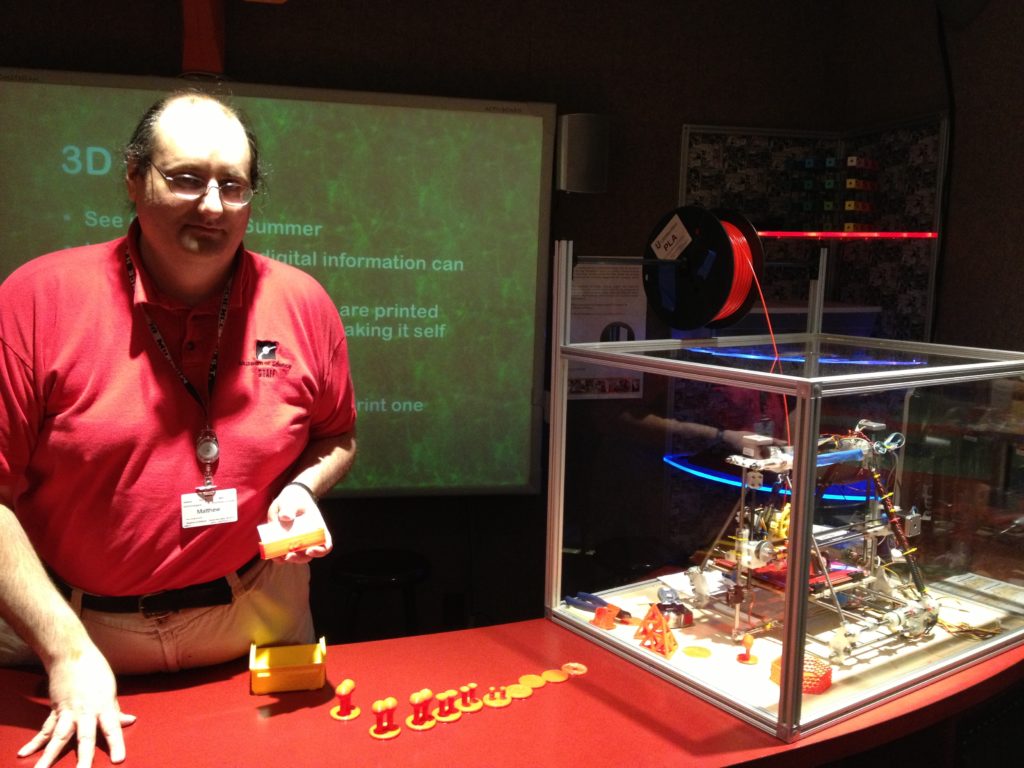 Their legendary two story tall Van de Graaff generator generator is right next to it: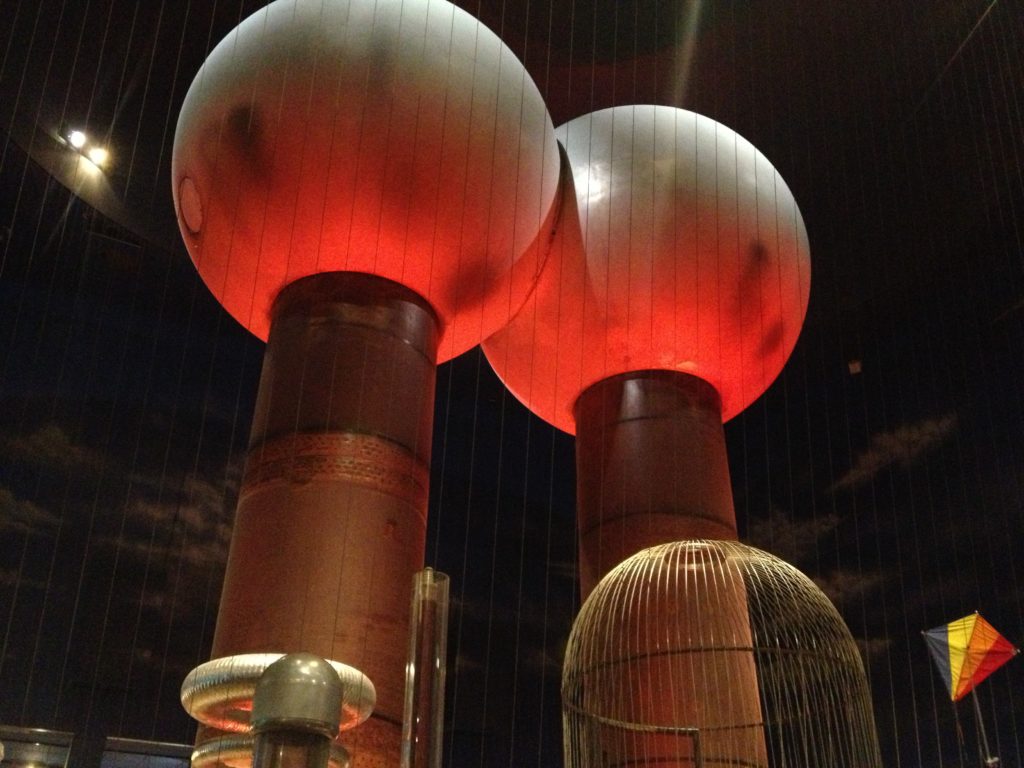 …so they used it as an example of showing what parts look like partially printed, by making this series of prints (interrupted at different layers):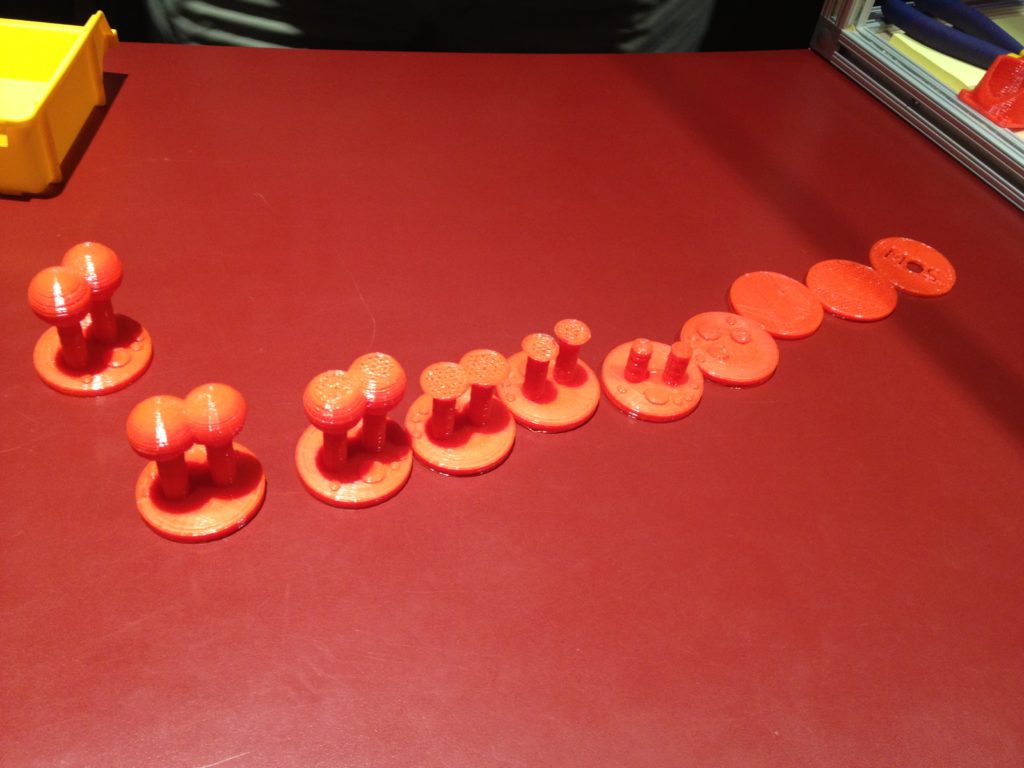 They also had added a fan: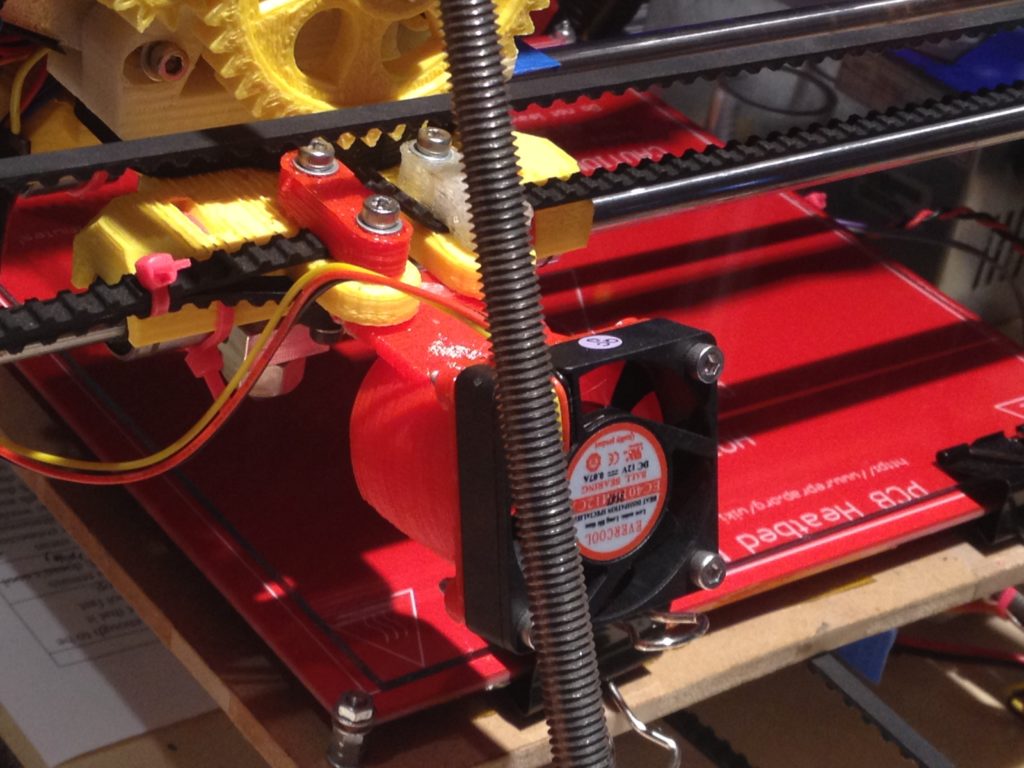 and had an example of an object (a pen holder) printed without a fan (left) and with a fan (right):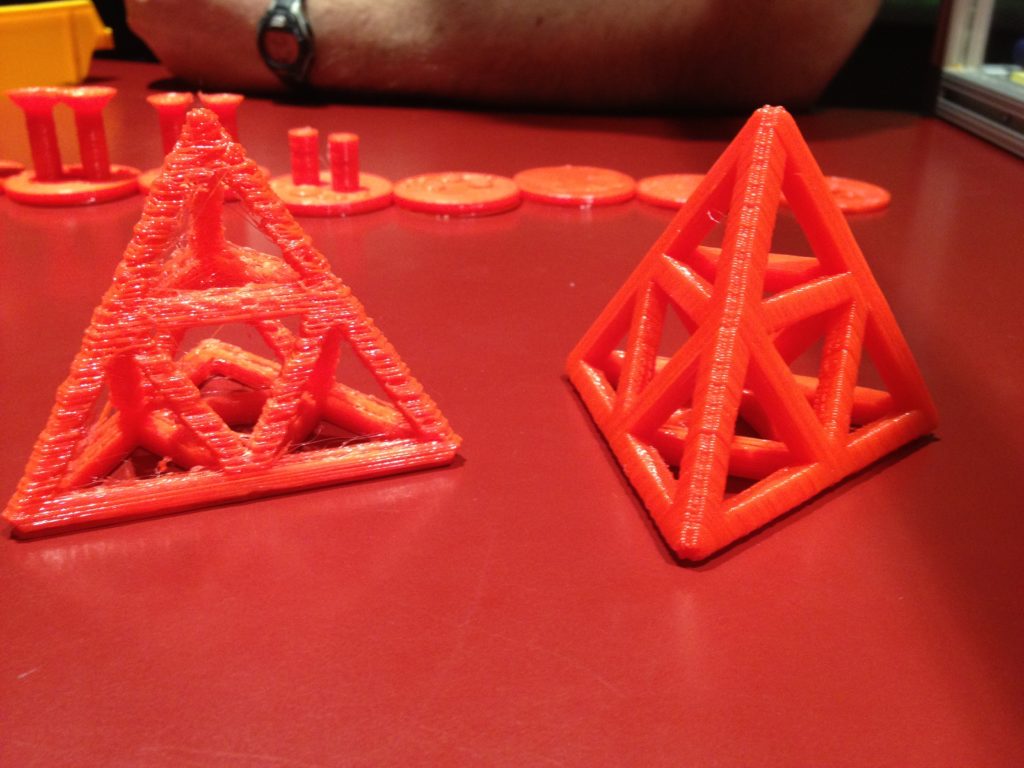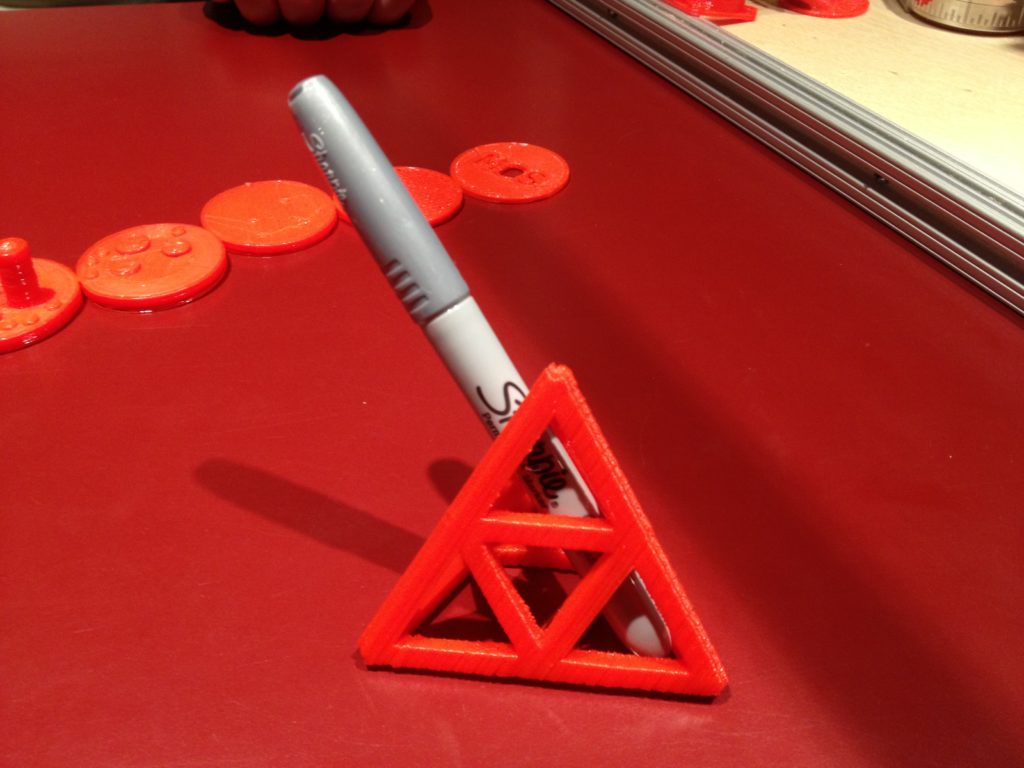 Another example is the tall tower in this pic: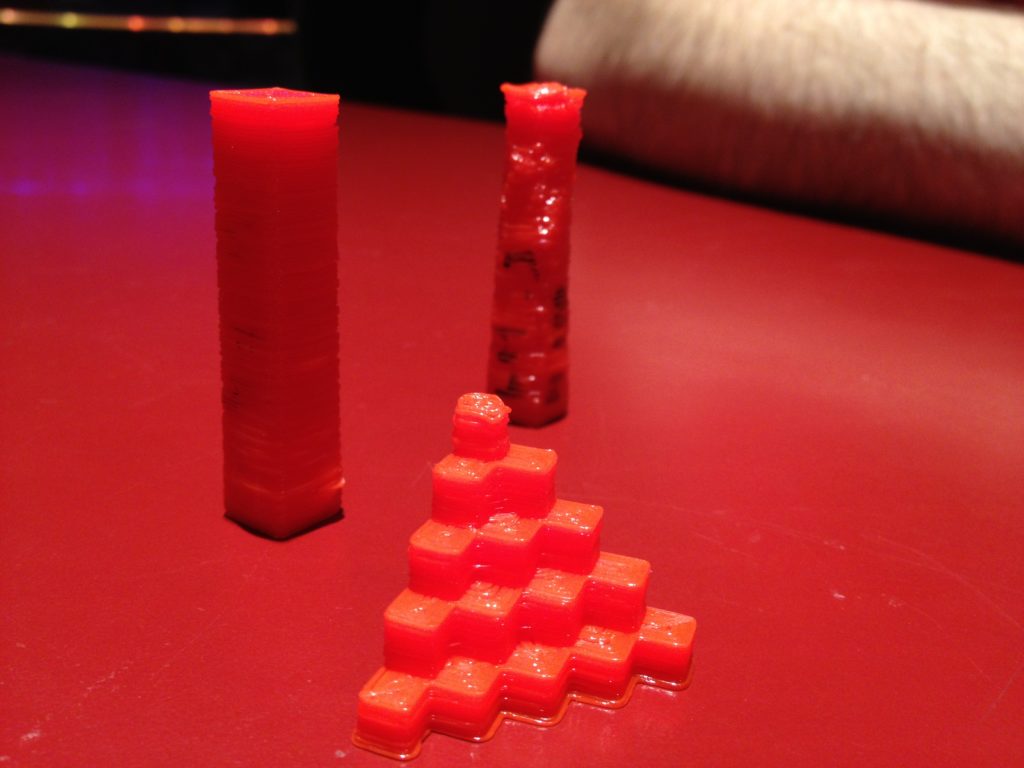 On August 2nd my cousin Kevin Martin and his family came up to Boston, and we did a trip to the Museum of Science, so I got to see it again. That day Miriam Ledley was working at the desk, and she showed us an activity that they do with the kids to show how the printer builds things up layer by layer. This was such an awesome idea:
Now they had added labels to the motors, which was a nice touch for the exhibit: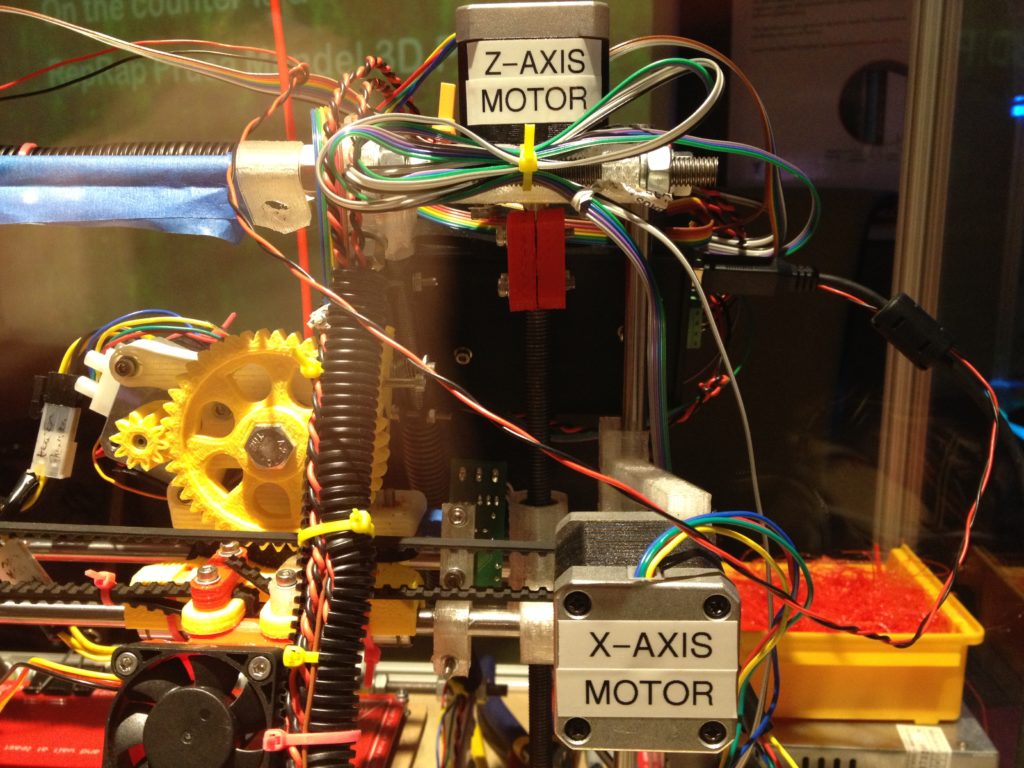 I have to admit, one of my guilty pleasures was sitting in the back of the room, watching other people look at the exhibit. One time in particular I remember this guy talking to his kids, describing how the printer worked. I grabbed a picture to remind myself what that felt like.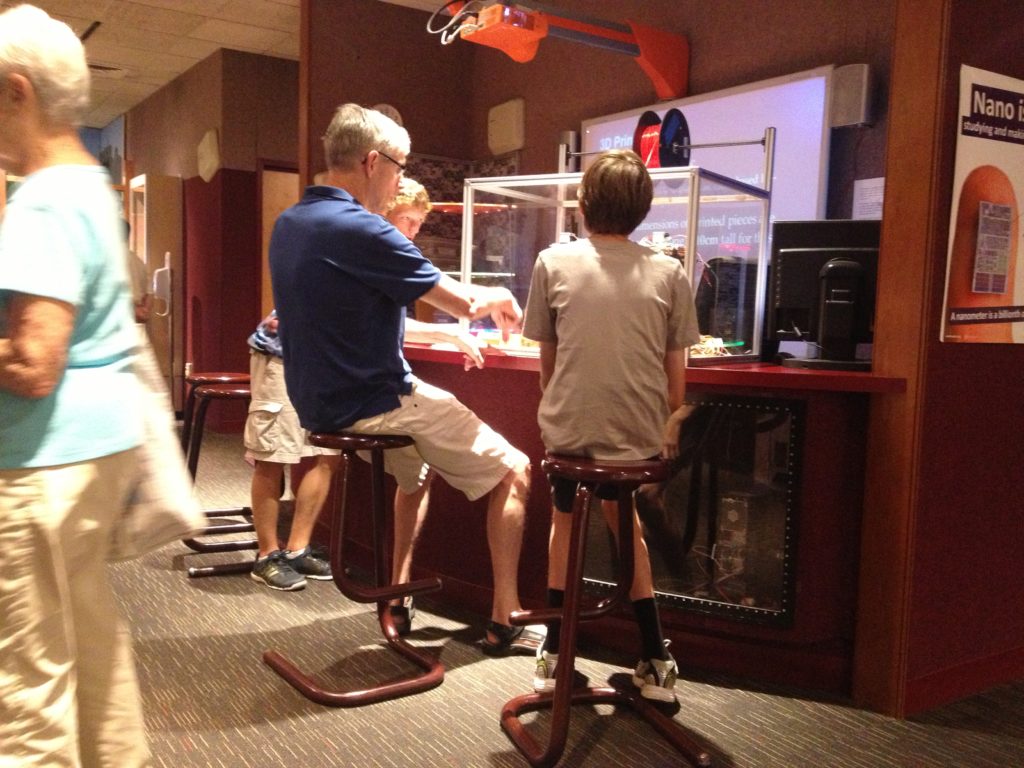 It was really cool. That was something that I made, there, for everyone to learn with. Something that had given me problems because of some belt slipping or some other problem, that I had to motivate myself to work on, actually got displayed and helped people learn!
About a week ago from the time of this writing, I learned that they have closed off the CCP section of the Museum – my thoughts go out to those that I know that worked there. I have no idea what the current status of the printer is, whether it's still on display somewhere, or if it found its way into that cage with the heads on it. 🙂 Hopefully it'll be on display again soon.
That's what happens when you blog about something a year and four months later – things change. 🙂
With the exception of the skip ahead to see the printer on display, that catches us up to April 30th, 2013. Still over a year and four months behind, but we'll catch up soon.
Reminder: One week from today I'm going to exhibit at Makerfaire NY 2014, for my third time. Buy your tickets now and come see me! If I can drag two RepRaps down in a car from the north end of Massachusetts to Queens, New York, you can drag yourself down there.. it's a great time!